October 22nd, 2012 Posted in
General Nintendo
,
News
,
Posted by Valay
,
Random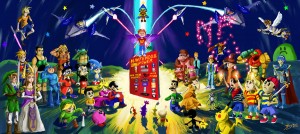 Bry Sharland isn't pleased that Nintendo Power will soon be shutting down. Actually, he tells us that he's been "depressed" over its imminent closure.
In hopes of paying tribute to the magazine, Bry has been working on a painting since August while being involved with two jobs. It features some of Nintendo's most popular characters as well as Nester – one of Nintendo Power's older mascots.
Props to Bry for making this painting. There's no way we could have made something like this!