January 6th, 2013 Posted in
3DS
,
DS
,
Images
,
Posted by Valay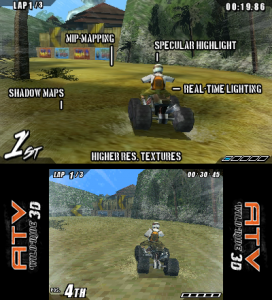 One Response to "ATV Wild Ride 3DS/DS comparison"

By MacroManJr on Jan 6, 2013

Meh, looks okay. It's no Resident Evil: Revelation or Kid Icarus: Uprising level of visuals, but I guess it doesn't have to be.
You must be logged in to post a comment.