January 30th, 2013 Posted in
News
,
Podcast Stories
,
Posted by Austin
,
Rumors
,
Wii U
Update: Nope. From the Activision forums:
"We are aware that some of the menu listings from the [Xbox] 360′s Revolution DLC drop are showing up in the game. This is … just a versioning problem that we are working to address."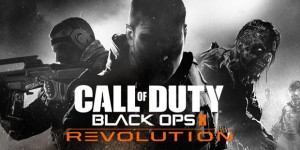 ---
Like I posted about last night, Call of Duty: Black Ops 2 got a brand new patch last night that supposedly brought a handful of things up to speed with the PS360 versions of the game. The reality ended up being that it broke more than it fixed, but that's for Treyarch to deal with as time goes forward. The most interesting part of this isn't that things broke or didn't break: It's that we may have seen our first glimmer of hope for the "Revolution" DLC coming to Wii U in quite some time.
When the patch was applied, players quickly noticed that leaderboards now included the DLC-only "Diner Turned" mode, and there were even a few players listed on it despite it not having come out for anything other than Xbox 360 thus far. There was also a calling card added based off of the "Peacekeeper" SMG, which is a gun only available for those that have purchased the DLC.
Wii U community manager A_Trey_U was quick to rectify the situation, however, saying it was just an accident:
"Holy things that shouldn't have happened, Batman! This is indeed a bug, and sadly something that will likely be going away this evening.
This is by no means a confirmation of DLC. Just something that got brought over when we brought over the rest of the fixes from the other platforms. Leave it to our community to find it in the first two minutes."
We'll just have to wait and see what happens! Treyarch is usually under incredibly strict rules about what they can and can't talk about during the Xbox 360′s exclusivity period with DLC, so if we hear anything it'll likely be after February 28th when the DLC comes to PS3 and PC.
Call of Duty Community via FPS General