September 26th, 2010 Posted in
3DS
,
Posted by Valay
,
Rumors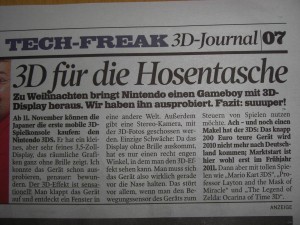 Oy vey. It's time for yet another rumor surrounding the 3DS. Today's edition of the German newspaper Bild claims to have information about the release date of the upcoming portable in Europe/Japan, as well as details regarding pricing and launch titles.
Bild states that the 3DS will arrive on November 11 in Japan this year, but sometime in the first quarter of 2011 in Europe. Mario Kart 3D, The Legend of Zelda: Ocarina of Time 3D, and Professor Layton and the Mask of Miracle were listed as launch titles in the newspaper. There was one additional detail Bild shared – it will supposedly cost 200 euros.
Even though you should most definitely take this rumor with a big grain of salt, there are a few things that should be noted. Bild is the best-selling newspaper in Europe, and they've apparently secured news prior to announcements. In 2005, when Satoru Iwata was set to unveil the Wii's controller for the first time at the Tokyo Game Show, Bild was told about it two days before Nintendo's president delivered his speech. So I suppose you could say Bild has a bit more credibility than your average newspaper, but I'm still not quite sure what to make of this rumor. Fortunately, it'll only be three more days until we start hearing official information about the 3DS.