January 26th, 2012 Posted in
3DS
,
News
,
Posted by Valay
,
Wii U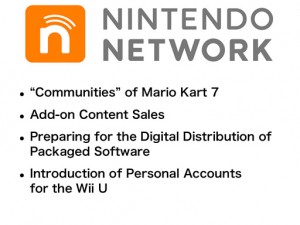 Nintendo Network isn't just a simple rewording of the Nintendo Wi-Fi Connection after all. There's a little bit more to it than that.
President Satoru Iwata finally detailed the Nintendo Network at a financial results briefing today. It encompasses DLC, the account system for Wii U, and more. Iwata even said that the company is considering distributing packaged software through digital means and first-party DLC.
A full rundown of the Nintendo Network can be found below.
- Nintendo Network is the new network platform which will be used for Wii U and 3DS
- "aiming to establish a platform where various services available through the network for our consumers shall be connected via Nintendo Network service so that the company can make comprehensive proposals to consumers."
- Competitions and communication among users included
- Sales of digital content will also be covered within the Nintendo Network
- Nintendo will be pushing to make software work with the Nintendo Network
- Tobidasu Pricla Kiradeco Revolution is the first Japanese game in which users can purchase DLC
- "We will make available the downloadable add-on content for this Nintendo first-party digital download title in the near future."
- DLC once again confirmed for Theatrhythm Final Fantasy
- "Nintendo, as a software maker, does not plan to deploy businesses where our consumers cannot know in advance which item will appear as the result of their payment and they have to repeat the payments and, before they know it, they end up spending a huge amount of money in order to obtain the items they originally wanted to purchase."
- Nintendo considering the future possibility of distributing packaged software digitally
- The concept above was built into the 3DS and the necessary infrastructure is in place for this
- Same infrastructure will be built into Wii U
- "The decision must be made by taking into consideration such factors as the relationship with the wholesalers and retailers, and the best way to be embraced by consumers, as well as the environment surrounding the market and consumers, such as the required memory capacity on consumers' SD memory cards."
- Personal account system for Wii U will be compatible with the Nintendo Network
- It'll make things easy for hardware that is used by multiple family members