March 17th, 2012 Posted in
Features
,
Interviews
,
Posted by Austin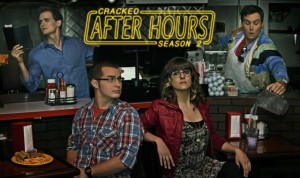 Cracked.com. You guys read it, I read it; everybody in the world reads it, from Los Angeles to San Diego to San Francisco. Nobody can escape its grip of procrastination assistance, made possible by its staff members who sit around and write things that we all find interesting so we can impress our soon-to-be ex-girlfriends with the information we "read online somewhere."
It's natural that we enjoy lists, because they're really ADD- and for those of us who need to bring traffic to our sites, they're an indispensable tool. Take for example this interview. I could definitely write this interview down in such a way that would be honest and forthright, but that wouldn't get me as many hits because nobody cares about good bloggism; they care about lists. So here's an interview, presented as a list, of things I made up to put in a list so I could format this interview as a list.
——————————————————-
#10: Who I Was Interviewing
The folks I had the pleasure of talking to over the last week were none other than senior Cracked geniuses/writers/editors Soren Bowie and Michale Swaim, both of whom worked on a recent video feature for the site's "After Hours" series where a cast of characters get together and argue about things that the Internet cares about. This week's topic was "Is Mario a douchebag?", and while that's clearly related to everything we care about on NintendoEverything, I'm honestly not quite sure why I was approached to do an interview. Pretty sure they aren't going to do another Nintendo-related video anytime soon, and they certainly don't need more publicity than Cracked gives them already, but whatever. I'm down for an interview if they are.
——————————————————-

#9: Mario Is Not a Douchebag, But Read On Anyway
Now, before sitting down in an imaginary room with Soren and Michael (similar to how I conducted my interview with Jools Watsham earlier this year), I watched the video they were promoting. To be honest, I was expecting some CollegeHumor-level comedy, but what I got was a thoroughly well informed, entertaining-for-everyone-while-at-the-same-time-being-funny-for-nerds video with three dudes and one girl sitting in a diner arguing for and against the idea of Mario being a douchebag, or- as they put it- a "dick with a moustache". Since I'm a huge fan of Mario and all things Nintendo, I jumped on the first train to Comebackland and hit them hard and fast with a question I knew would be a slam dunk of debate-ending fantas…ism…stuff…
——————————————————-
#8: Why Mario? What's the dude ever done to you?Why not Solid Snake? Or Capt. Fisher Price from Call of Duty?
"Well," Soren began, "Mario had an unfair advantage in his rise to celebrity because he had a head start on all the competition; he was around when the other options for iconic characters were Q-Bert or The Blades of Steel guys, so he was sort of grandfathered into fame without necessarily deserving it."
Now, I was willing to let him go on his bash of Q-Bert, but come on, Blades of Steel? The fact that Mario was able to beat out two white dudes punching each other in hockey uniforms as the "iconic game character of forever" is more than a miracle. It's a miracle on ice.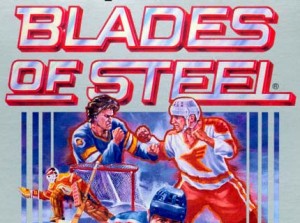 Because what's more iconic than two generic white dudes fighting?
"And now there are all the offshoot Mario games as well," he continued, "it just feels like he's rubbing it in our faces. I'm sure that if Master Chief started racing go-karts or he went around posing as a doctor, we would have tried to cut him down as well."
Then Michael cut in with a voice that sounded like a thousand singing angels.
"As a young child, [Mario] lured me into a bizarre alternate reality with the promise of mushrooms. When I awoke, I'd squandered most of my youth manipulating the same eight buttons to no demonstrable effect. Also I think he 'took liberties with the plumbing' while I was under, if you know what I mean. Real skeeze character."
I didn't know what he meant, and I could already tell this was going to be a hell of an interview between two terribly sarcastic and successful writers and one terribly sarcastic person who pretends to be a writer.
"Waluigi," he continued, "on the other hand, is a much nicer guy than you'd think. As for Solid Snake, all I can think of are more allusions to my dick (I mean come on, the guy's name is basically a child's description of male genitalia), so I'll move on."
I let out a long and heavy sigh, trying to clear the air and waste time so I could think of a better question than whatever excuse for a question I used as a lead-off. I knew I wouldn't think of anything better, but if I could put off the illusion that I was putting thought into this then maybe I'd get some serious "street cred".
If they weren't going to admit that attacking Mario was about as dignified as being knighted in France, I would have to approach from a different angle. The "bro" angle. The "let's be honest" angle. The "you can talk to me; I swear no one will hear what you say" angle.
Click Here For The Next Page, "The Bro Angle"