April Fools' Day 2018 roundup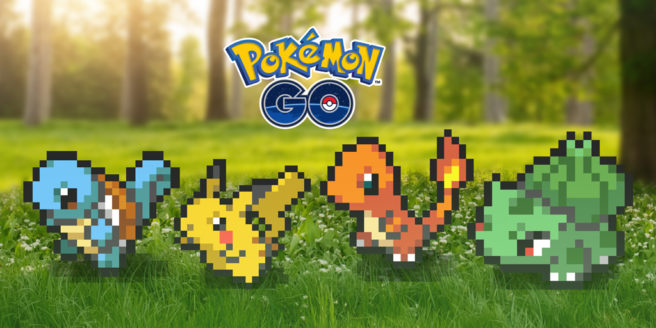 As we've seen over the past few years, game developers have gotten into the April Fools' Day spirit with fake announcements. Some companies have already started sharing their news ahead of April 1 – which is tomorrow of course.
We don't have any plans for any April Fools' Day jokes, though we will once again be rounding up all of the Nintendo-related "announcements". We'll keep this post updated over the next day or so.
March 31
Pokemon GO's new graphics
We always want to bring you the most immersive graphics experience possible, and we're excited to share our latest breakthrough with millions of Pokémon GO Trainers around the world. Starting later today, you can be one of the first to experience this all-new graphics engine.

Experience Pokémon GO like never before with cutting-edge 8-BIT GRAPHICS! Registering approximately twice the definition of 4K, the chunky squares of each pixel provide realistic detail and unbelievable definition. Your Pokédex will feel lifelike in ways previously unimagined on any handheld device ever created.

We feel 100% confident in saying that you've never seen Pokémon like this in Pokémon GO! We're looking forward to your feedback on this brand-new feature. Tell us your thoughts on our latest update with #PokemonGO, and be sure to include a picture of your favorite Pokémon!
The Mummy Demastered Remastered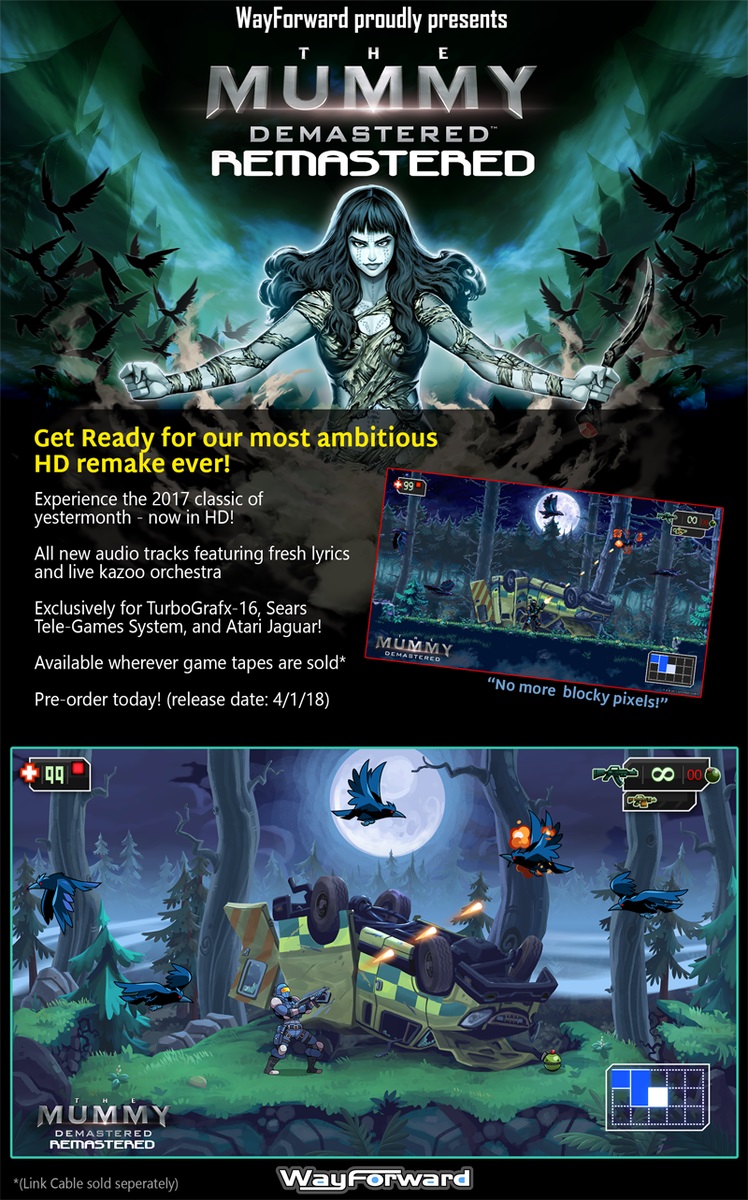 April 1
Nintendo of America's April Fools' Day character survey
Happy #AprilFoolsDay! Take this special poll and find out which Nintendo character is the perfect pick for pranking! https://t.co/4iBdmxGupS pic.twitter.com/v3Dg59zzp7

— Nintendo of America (@NintendoAmerica) April 1, 2018
Waddle Dee's 25th anniversary
だ、だ、大ニュースですっ!!!
25周年のクライマックスは、「ワドルディ」!
なんと!『星のワドルディ25周年』公式サイトがオープンしましたっ!
われわれが主人公の最新作ゲームも続々登場!?
どきどき……要チェックです!https://t.co/dfVk7BJVa7#ワド25周年 #エイプリルフール pic.twitter.com/9EdvkxOoRM

— 星のカービィ25周年 (@Kirby25thJP) April 1, 2018
Pokemon – Prepare for Trouble!
Eevee in Tekken 7
【速報】格闘アクション「鉄拳7」のダウンロードコンテンツ第21弾として、ゲストポケモン「イーブイ」の参戦が決定!
プロレスで磨き上げた技と肉体美がここでも披露されることに。

DLC販売価格:1,121円(税込)
配信予定日:2100年11月21日
#鉄拳 #エイプリルフール pic.twitter.com/48RhuGJbK7

— 【公式】プロジェクトイーブイ (@project_eevee) April 1, 2018
今日は誰にも負ける気がしなイーブイ♪
もう誰にも止められなイーブイ♪♪#鉄拳 #エイプリルフール pic.twitter.com/Tg8W2TZlev

— 【公式】プロジェクトイーブイ (@project_eevee) April 1, 2018
Fake Mega Man 11 bosses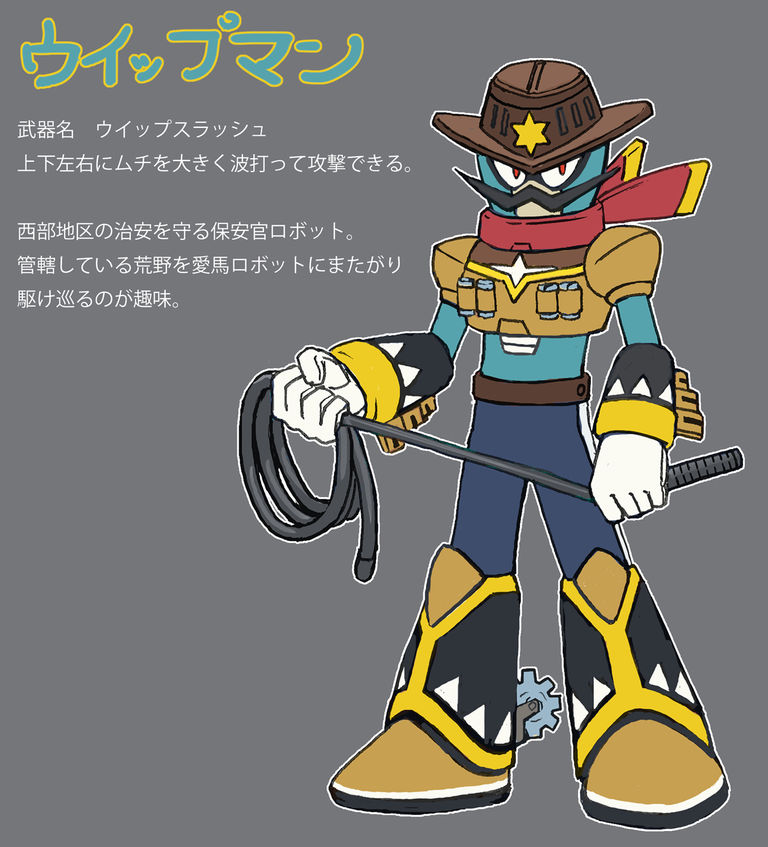 Mega Man: Date My Robot Master
Get ready for love! Introducing Mega Man: Date My Robot Master!

https://t.co/5KIX76ph1w pic.twitter.com/1cbXXx8G91

— Mega Man (@MegaMan) April 1, 2018
Shovel Knight 64 for Commodore 64 and other 8- and 16-bit platforms
BlazBlue: TAG
We are pleased to announce our brand new game, #BlazBlue TAG, coming to PS4, Switch, Atari 2600 & Commodore 64!

Do you have what it takes to survive when the Lord of TAG descends upon the Hierarchical Cities?

Read about the game features here: https://t.co/sQ49vBcb1t pic.twitter.com/9oJRpzKAwK

— ArcSystemWorks @ SakuraCon704 (@ArcSystemWorksU) April 1, 2018
PlatinumGames president figurines
Hey, PlatinumGames fans! Have you ever dreamed of having PG President & CEO Kenichi Sato around to keep you company at home, at school or in the workplace? Of course you have!

Today your dream comes true – With new, collectible Pocket President Sato figurines! Collect all eight! pic.twitter.com/mGHlgMANCD

— PlatinumGames Inc. (@platinumgames) April 1, 2018
Payday: The Animated Series
Earth Atlantis – Classic Game Boy DLC
Figment – NES port
InnerSpace – The Movie Mission Pack
The Rogue King Aces
Due to popular demand, we've decided to combine @IronOakGames' #FortheKing and @InfiniteStates' #RogueAces into one epic title: an aerial combat WWII-era fantasy-based strategy RPG!

The Rogue King Aces, out this April. Happy Easter, everyone! pic.twitter.com/xqY7Ec2G6i

— Curve Digital (@CurveDigital) April 1, 2018
Leave a Reply