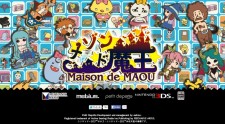 3 hours ago
By
Brian
(
@NE_Brian)
0 Comments
Maison de Maou, originally released for Xbox 360 (and possibly PC?), is now coming to 3DS. A teaser site can be found here.
On 3DS, Maison de Maou will offer unspecified new features. Most information is being kept in the dark for now.
The game will be heading to the Japanese 3DS eShop later this year. Mechanic Arms will be handling publishing duties.