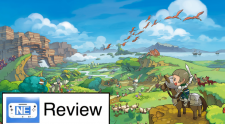 1 month ago
By
Austin
(
@NE_Austin
)
7 Comments
System: Nintendo 3DS
Release Date: October 24th, 2014 (NA) September 26/27, 2014 (EU/AU)
Developer: Level 5, 1-UP Studio
Publisher: Nintendo
---
Author: Austin
Paper Skyrim.
The defining feature of Nintendo's Paper Mario series is, undoubtedly, its warmth. Characters and locales that are at once unbelievable and entirely lovable, supported by music that makes you forget you're not a kid anymore, all tied together by a simple but enjoyable story of saving the kingdom from certain doom.
The defining feature of Bethesda's Elder Scrolls series is, undoubtedly, its scope. Hundreds of quests, hundreds of hours, and a seemingly endless amount of trivial– but altogether enjoyable– gameplay to partake in.
Fantasy Life isn't perfectly described as a combination of these two philosophies, but thinking of it in those terms would give you a fair idea of what to expect if you opted into this Level 5 adventure. It's a tempting concept, after all: What if you could live in the world you just saved for as long as you like? What if you never had to leave those characters and locations behind after the credits had receded above the top screen of your 3DS? The possibility of harnessing the emotional weight that an adventurous tale lends to a world and then channeling it into an endless farming game (not just farming of course, but you follow) is an intriguing domain that would seemingly take a considerable amount of work to map and conquer. But Level 5 decided to grab their best cartographers and venture into the unknown, and thus Fantasy Life has burst forth onto the 3DS, covered with bruises and a few broken bones, but with a completed map of that intriguing domain nonetheless in tow.