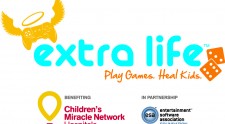 1 year ago
By
Austin
(
@NE_Austin
)
0 Comments
Did you know that if you participated in our Extra Life 2013 livestream charity event, you may have been entered to win some fabulous prizes? Anyone who correctly answered a question in Jeopardy or who donated money received some number of raffle tickets which were used in a drawing for some digital download games and a few physical prizes that we'll send out to you. The winners of those prizes are below, but first, the rules:
1) You have to be in North America to be eligible for game codes.
2) You must be in the lower 48 United States to be eligible for physical prizes.
Each prize has three winners: The primary winner gets the prize unless they don't qualify, in which case it goes to the first backup winner, and if they aren't eligible, the second backup. Please contact us via [email protected] with your name and what you won if your name is listed below at all, even if you're the runner-up or third-back-up winner since we'll need a way to contact you directly. This is how we'll work out shipping details or code exchanging.
Hit the break for the winners.