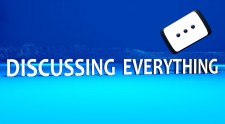 1 day ago
By
Brian
(
@NE_Brian)
0 Comments
Update: Now over, but the full replay can be found below. I greatly appreciate those who joined and chatted with us!
---
This week's Discussing Everything will begin at 4 PM ET / 1 PM PT as usual. We'll be talking about the latest news, including the Smash Bros. Wii U leak on Amazon and plenty more! You'll also have the chance to submit any random questions/comments towards the end of today's event.
Note that you can log in with Facebook/Twitter, but these are optional. You can choose a random username as well!