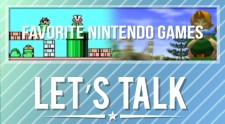 14 hours ago
By
Brian
(
@NE_Brian)
42 Comments
It's been awhile since I last hosted a Discussing Everything session. There's a reason for that: I've been thinking about how to proceed with it going forward. I believe I've found somewhat of a solution, though that means ending Discussing Everything to pave the way for something else.
This is where Let's Talk comes in. I know – it's another incredibly uncreative name for one of our features. Despite that, I'm hoping that we'll be able to generate some interesting discussions with this new initiative.
The idea behind Let's Talk is actually very simple. Each week, we'll have one post dedicated to a particular topic – almost like a forum post. I'll kick off the discussion in the main post, and then you guys will be able to follow up with your own thoughts in the comments. I'll be replying to some of the responses, and other staff members may chime in as well. You guys can also respond to each other comments.
Basically, I'm trying to generate focused discussions. I also want Let's Talk to be a place where everyone can interact with each other in a positive manner!
So why should you participate? Well, for one thing, hopefully you'll find it entertaining! If you love talking about Nintendo like me, perhaps some of the topics we bring up will interest you. We'll also be selecting at least one response per week that will be highlighted in the following week's post.
With that out of the way, let's move on to this week's topic!
---
Let's Talk #1: what is your favorite Nintendo game?
Note: we're opening things up, so this can be any game made for any Nintendo system.
I'll get things started. This answer tends to change for me occasionally. Sometimes I feel like I'd go with games like Super Mario Galaxy 2 or Xenoblade. But when it comes down to it, I'd have to choose The Legend of Zelda: Ocarina of Time.
Ocarina of Time is really what jump-started my interest in gaming. For one thing, it was the first console title that I truly owned and completed on my own. I'll never forget going to Best Buy and picking up my GameCube, which included with a copy of The Legend of Zelda: Collector's Edition (it also came with a CD player – random, right?). Even though it was technically a N64 title, my brain didn't really know that, and I was very impressed with the graphics at the time. Getting immersed in the world, travelling across Hyrule, and taking on the various dungeons still fills me with plenty of memories. Like many players, it was amazing stepping into Hyrule Field for the first time!
---
Now it's your turn. What is YOUR favorite Nintendo game? You can choose to do whatever pleases you with your response. It can be short, long, or anything in between. Whatever! Just go for it. Let's have a nice discussion and talk about the games we love!
I'll be checking up on the comments over the next few days. We'll be featuring one of your responses in next week's post, which will also include a new topic to talk about!