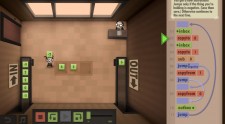 19 hours ago
By
Brian
(
@NE_Brian)
3 Comments
Nearly three years ago, Tomorrow Corporation brought Little Inferno to the eShop in time for the Wii U's launch. The studio is now almost ready to release its next game, Human Resource Machine. Just a few weeks ago, an announcement was made confirming a Wii U launch for October 14.
We recently got in touch with Tomorrow Corporation's Kyle Gabler in hopes of learning more about Human Resource Machine. Gabler shared more information about the game and talked about what we can expect from the Wii U version, and also touched on a few other topics like the Nindies community and the difficulties of being a small team.
For our full interview, head past the break.