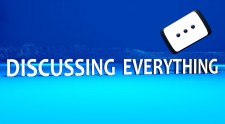 3 days ago
By
Brian
(
@NE_Brian)
3 Comments
Update: Now over, but you can find a full replay of the chat below. A huge thanks goes out to those who joined us!
I'll let you guys know when we'll be hosting the next Discussing Everything. Next week may be tricky, but October 12 should be clear for sure.
---
We'll be kicking off the first Discussing Everything in just a bit! The chat will officially go live at 4 PM ET / 1 PM PT.
Have no idea what Discussing Everything is about? Simply check out this post!
---