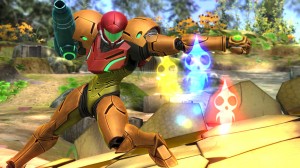 Let's be honest: This is the game we're waiting for for Game Night.
---
A couple of weeks ago we polled all of you to see which days and times worked best for getting together and playing video games every week, and today we've made our decision: Nintendo Everything Game Nights will be returning on Sunday, August 18th, at 4PM ET. Here's all of the stuff you should know:
What: Game nights! We all get together (NintendoEverything staff, plus you guys) to play online games for a couple of hours every week. Just a small way of getting ourselves more involved with our games! On top of that, the event will be live-streamed for all to watch.
Where: On your Nintendo Wii U or Nintendo 3DS systems! Maybe Wii as well, depending on the week.
What games?: We'll hold a poll every week to decide what games to play. If the same game keeps winning every week, we may force it out of rotation for a bit to give other games a chance as well.
How long? Probably just about two hours! Not a huge commitment, but enough to have some fun, chat with each other, and make good memories of blowing each other up with blue shells and stuff.
If you have any other questions, comment away! We'll be here to answer.