Azure Striker Gunvolt: Striker Pack coming to Switch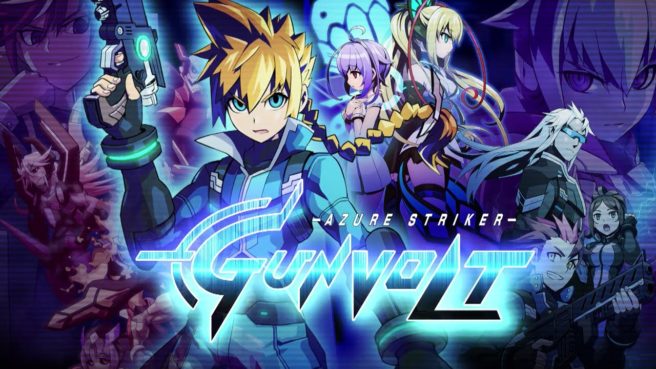 Update: Added in additional details and trailer below from the Inti Creates blog. This will be a worldwide release on August 31.
---
Original: Aside from Mighty Gunvolt Burst, Inti Creates is revealing a second brand new Switch release at BitSummit. Today, the company announced Azure Striker Gunvolt: Striker Pack, another title (or should we say titles?) for Switch.
Azure Striker Gunvolt: Striker Pack may sound familiar as it originally came out on 3DS last year. This was a retail package that featured both Azure Striker Gunvolt games.
On Switch, the two Azure Striker Gunvolt games are once again included. Striker Pack will feature HD Rumble, new music, and DLC from the 3DS release this time around.
Azure Striker Gunvolt: Striker Pack launches in Japan on August 31. We'll update this post when we have additional information, which should be very soon.
The Azure Striker Gunvolt Striker Pack contains both Azure Striker Gunvolt and Azure Striker Gunvolt 2, two of our flagship games that originally made their home on the Nintendo 3DS. With the release of the Switch version of the Striker Pack, there are a host of new features, improvements, and bonus content that make it the truly complete version of the Azure Striker Gunvolt experience. Let's take a look at what's in store!

Gameplay Upgraded from 30 FPS to 60 FPS

Since the 3DS game was created with emphasis on the visual aspects of the game, it was only able to run at 30 FPS on that system, but thanks to more powerful new hardware, 60 FPS Gunvolt is here for the first time. The biggest difference between the former 30 FPS and the new 60 FPS can be felt while playing as Copen, the super-quick, high-flying playable character from Gunvolt 2.

Entire DLC catalog from the 3DS version comes pre-loaded

All of the 3DS version DLC, which includes extra stages and bosses, bonus modes, and new songs, comes pre-loaded with the game.

HD Rumble Support

When Gunvolt uses his powerful electrical attacks, the Nintendo Switch's HD Rumble kicks in to bring you even closer to the action.

Screen layout has been completely redone

The screen layout has been redone from a two-screen layout on the 3DS to an intuitive one-screen layout for the Switch.

Brand new song for the Nintendo Switch Version

A brand new theme song by the virtual idol Lumen (VA: Megu Sakuragawa) debuts on the Nintendo Switch!

High resolution event graphics and in-game text

On the Nintendo Switch, in-game text is much easier to read and the characters look better than ever in high resolution.

Adjustments to the game balance and general gameplay improvements

The Kudos system from Gunvolt 1 has been changed to the system from Gunvolt 2, adjustments have been made to some stages to balance out the difficulty, and other minor gameplay improvements have been added.

Numerous language settings

Compatible languages: English, Spanish, French, German, Italian, Portuguese and Japanese.

Nintendo Switch Pro Controller Compatibility

Gameplay feels especially satisfying on the Nintendo Switch Pro Controller.
Leave a Reply