Atelier Lulua shows off its battle system, early purchase bonuses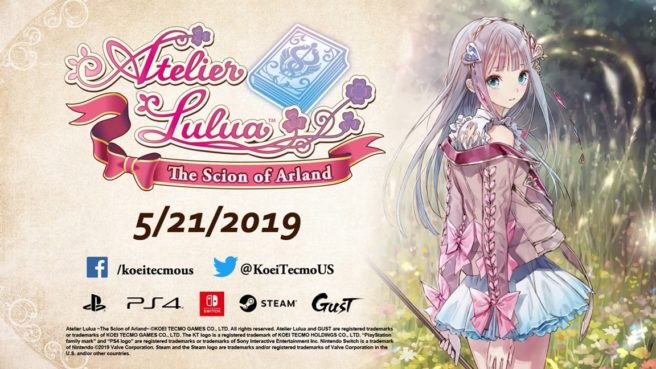 Koei Tecmo issued a new batch of details for Atelier Lulua: The Scion of Arland today. For today's update, we have news pertaining to the game's battle system.
Here's the full rundown:
Alchemists exploring Arland for raw materials should always be prepared for battle – these beautiful lands are not only home to important resources but dangerous creatures waiting to attack. Atelier Lulua: The Scion of Arland features a turn-based battle system where players can form a party consisting of five members: three attackers and two taking a supportive role. Support members automatically perform Assist Attacks to compliment the attacker's actions, and aiming to trigger these regularly will ensure that maximum damage is dealt to enemies.

Attackers have an arsenal of unique skills they can use to strike enemy weaknesses. For example, the talented Eva can use the Range Shift skill; expanding her area of attack for a few rounds. These abilities can also aid in the decryption of the Alchemy Riddle, helping players unlock new synthesis recipes and further skills. Depending on the formation of attackers at the start of an encounter, a special dormant ability known as a Primal Art can also be awakened. These arts automatically activate to offer the party support through their battle in the form of increasing Item Damage, or even increasing Attack Damage, for the entirety of the fight.

In Atelier Lulua: The Scion of Arland, alchemists are able to utilize the new Interrupt ability, offering the chance for them to perform a special Interrupt Skill and use a pre-equipped item, outside of their turn. Once the gauge is full from performing attacks, the skill can be triggered and the pre-equipped item will not be consumed when used – giving the attacking team the upper hand against powerful foes.
We also have the following trailer:
In other news, those who purchase Atelier Lulua digitally or physically within the first month of launch will receive the "Innocent Fairy" and "Fish Girl" costumes for Lulua via DLC. It will not be for sale in the future.
Hardcore fans can also purchase a limited edition through the NIS America store. Copies include a physical version of the game, a hardcover art book, the Sound Archives official soundtrack, keychains of Lulua & Rorona, and a deluxe cloth poster – all packaged together in a delightful collector's box featuring artwork of the young aspiring alchemist, Lulua.
Source: Koei Tecmo PR
Leave a Reply