– Gamelion founded in 2002, employs about 100 people
– Furry Legends has been in development since fall 2008
– Everything built from scratch
– Game is a platformer, but roll instead of walk
– Environmental puzzles present as well
– Supports the Nunchuck + Wiimote
– Devs have found 40MB size limiting
– No DLC planned
– No online functionality including leaderboards
– Will be releasing in the US and EU markets, possibly Japan as well – aiming for a Q2 2009 release
– Devs have other ideas in mind for WiiWare that depend on initial reception of Furry Legends






Wolfmother – Dimension
Coldplay – Violet Hill
Lenny Kravitz – Where Are We Runnin
Evanescence – Sweet Sacrifice
The Strokes – Reptilia
The Bravery – Unconditional
Fall Out Boy – This Ain't A Scene
Weezer – Everybody Get Dangerous
The Kaiser Chiefs – Ruby
12 Stones – Adrenaline
Tenacious D – The Metal
Atreyu – Falling Down
– Vicarious Visions working on tweaking tech from two previous games
– Fan Request system in Modern Hits – "It's a new non-linear progression that is focused on building your fan base from just a few early listeners to millions and millions of fans. Your fans provide you with different song challenges to complete as you grow your band's appeal."
– Will not be compatible with the DSi
– Modern Hits team "very excited about the possibilities open to us in the future for advancements to the portable Guitar Hero experience – particularly with the Nintendo DSi."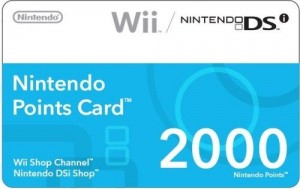 Remember, these cards will be replacing the Wii Points Card when the DSi releases.
Thanks to Shoop for the news tip.


– More than 30 different types of stages.
– Collect up to 108 different swords, which you can temper at the forges.
– A variety of different ougis (special techs)
– Wiimote + Nunchuk, Classic Controller, and Gamecube controller all supported


PRODUCT DESCRIPTION:

Turn down the lights, crank up the amps and prepare to command center stage as some of the most famous AND infamous tracks from Guitar Hero®, Guitar Hero II™, Guitar Hero® Encore: Rocks the 80s™ and Guitar Hero® III: Legends of Rock step into the spotlight in the most epic, full band jam session to-date — Guitar Hero® Greatest Hits. The #1 best-selling video game franchise of 2008 presents the best of the best to music video game aficionados so they can join together with guitar, bass, drums and vocals and rock to master tracks of their favorite Guitar Hero music.

Featuring 48 master recordings, Guitar Hero Greatest Hits delivers exciting online and offline gameplay modes including Band Career and 8-player "Battle of the Bands," which allows two full bands to compete head-to-head online. In Guitar Hero Greatest Hits players' rock n' roll fantasies turn to realities as they create their rocker, compose their music and share it with the world through the innovative Music Studio, GHTunesSM and robust Rock Star Creator gameplay modes first introduced in Guitar Hero World® Tour.


Screenshots/documents of an early Red Steel 2 prototype have been leaked. Ubisoft Montreuil – the division which created the first game in the series – was initially in charge of the title. However, Ubisoft Paris took over the project when development ceased in October 2007 over concerns of the game's quality. Ubisoft Paris is now working on a "new" version of Red Steel 2, which should be on the way this year.