Axiom Verge confirmed for Switch, will have a physical version alongside Wii U in August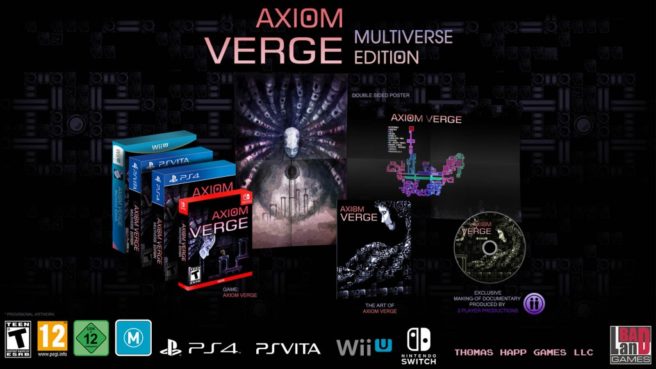 Awhile back, a physical version of Axiom Verge was announced. Wii U and other platforms are set to receive the "Multiverse Edition" with a bunch of goodies. We now have confirmation that Axiom Verge is not only coming to Switch, but will also be receiving the same physical release.
The Axiom Verge Multiverse Edition contains the following:
– Copy of Axiom Verge on disc/cartridge
– Deluxe booklet with developer's commentary and art
– Double-sided poster with the world map and weapons/items in the game
– Exclusive making-of documentary
– Soundtrack CD (Available only on Switch, pre-order incentive otherwise)
You can pick up the Aaxiom Verge Multiverse Edition in August. It will cost $29.99 / €29.99 / £24.99 on Wii U, but $39.99 / €39.99 on Switch.
Leave a Reply