Being Home Alone with You is Worse Than Death Switch physical release announced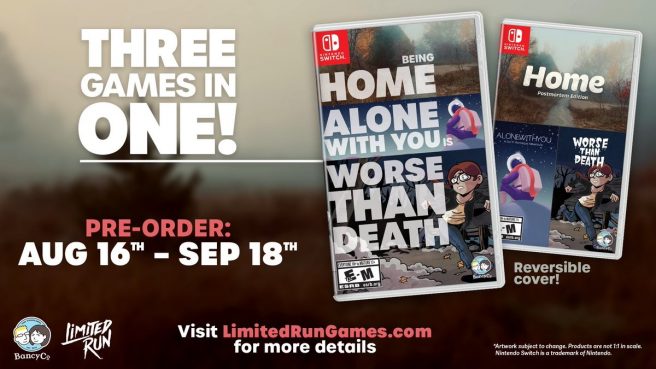 Limited Run Games has revealed Being Home Alone with You is Worse Than Death, a physical release for Switch containing three games. Home: Postmortem Edition, Alone with You, and Worse than Death will all be sold together on a single cartridge.
Worse Than Death first came to Switch in October 2019. Home: Postmortem Edition followed in October 2020, and Alone with You rounded things out in July 2021. Each one has only been sold digitally thus far.
Here's some information about the collection:
Home: Postmortem Edition

Play the complete indie horror classic, now with a brand-new Postmortem Mode – a guided tour by the developer that brings you behind the scenes as you play the game!

Awakened by an oncoming storm, you open your eyes to discover yourself in a strange, dark room – tucked away in a house that's not yours. Find your way back home – but be careful, because each choice you make can change your story in ways you might not expect.

Alone With You

You're the last survivor of a doomed space colony, trying to escape a planet before it implodes around you. Equipped with a scanner, you'll reveal clues, solve puzzles, and discover the fates of over two-dozen colonists and the secrets of their interwoven lives.

By day you'll explore this richly detailed world with the help of the colony's troubled AI. And each night, you'll spend quality time with several holographic companions, forging lasting relationships while gaining further insight into the colony's tragic downfall.

Worse Than Death

Run for your life, hide in the shadows, and use your wits to avoid shadowy creatures and uncover the terrible truths of your wretched home town. Solve devious puzzles to reveal the emotionally-charged story of Holly and her friends that will have you hooked until the very end!
Pre-orders for the Being Home Alone with You is Worse Than Death Switch physical release begin on August 16, 2022. Limited Run Games will have reservations here.
Leave a Reply