[flashvideo file=http://www.nintendoeverything.com/wp-content/uploads/2009/07/pk_wiiware.flv /]


Last month, Capcom announced a new Mega Man title. While it was unclear what the game would be like, it was confirmed that it is going to be an EXE title. However, Capcom has now revealed Rockman EXE Operate Shooting Star on an official website and have set a target release for this fall. There aren't many details yet, but Capcom also has said that this game is a remake of the debut Rockman EXE title for the GBA.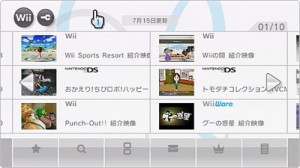 Today, Nintendo released a new update for the "Nintendo Channel" in Japan with some welcomed features. Unfortunately, the update only seems to be available in Japan as of now. You can check out details about the additions/changes below.
– Entirely new interface
– Choose between high quality and regular quality when you first boot up the channel
– Create a favorites software list
– Recommend DS games
– View records of games you've played/records of recommended games
– View recommended ranking


London (15th July 2009) – Square Enix Ltd., the publisher of Square Enix� interactive entertainment products in Europe and other PAL territories, today announces that FINAL FANTASY® CRYSTAL CHRONICLES®: My Life as a Darklord™ will be available exclusively for WiiWare™ on July 17th, 2009.

FINAL FANTASY CRYSTAL CHRONICLES: My Life as a Darklord turns the tables on players by challenging them to take on the role of the villain. As the daughter of the newly appointed Darklord, with a mission to take over the world, players must strategically place monsters and traps inside their tower to ward off invading adventurers. With this follow-up to the kingdom-building simulation FINAL FANTASY CRYSTAL CHRONICLES: My Life as a King®, Wii™ users can now enjoy the FINAL FANTASY CRYSTAL CHRONICLES world from an entirely new point of view!


Gothenburg, Sweden (July 15th, 2009) – Legendo Entertainment today announced a July 31st European and Australian release date for The Three Musketeers: One for All! for WiiWare™. The game will be priced at 900 Wii Points™ and will be available in English, German, Spanish, Italian and French languages. The localized titles will be released under the names The Three Musketeers: One for all! (English), Die Drei Musketiere: Einer für alle! (German), Los Tres Mosqueteros: ¡Uno para todos! (Spanish), I Tre Moschettieri: Uno per tutti! (Italian), Les Trois Mousquetaires: Un pour tous! (French).

Until today the much-loved sword-swinging platform adventure inspired by Alexandre Dumas' classic novel has only been available on the PC. The Three Musketeers: One for All! has been specially revamped for Wii™ to provide players with more fun and interaction as they launch sword attacks and control the game's hero with the Wii Remote™ and Nunchuk™.


Dragon Quest 9 (DS) – 10/10/10/10
Kawaii Koneko DS 2 (DS) – 7/6/7/7
Moyashimon DS (DS) – 6/5/6/5
Katekyoo Hitman Reborn! DS Flame Rumble X – Mirai Chou-Bakuhatsu!! (DS) – 7/7/6/7
Okaeri! Chibi-Robo! Happy Richie Oosouji (DS) – 8/9/8/9
Ranshima Monogatari Rare Land Story: Shoujo no Yakujou (PSP) – 7/8/7/8
Narisokonai Eiyuutan: Taiyou to Tsuki no Monogatari (PSP) – 5/6/6/6
Project Witch (PSP) – 5/6/5/6
Punch-Out!! (Wii) – 6/7/6/7
Dragonball: Revenge of King Piccolo (Wii) – 6/6/5/6
Toro to Morimori (PS3) – 6/7/7/6
Katamari Tribute (PS3) – 9/8/8/8
50 Cent: Blood on the Sand (PS3) – 8/8/8/7
Call of Juarez: Bound in Blood (PS3/360) – 6/7/6/6






It has been known for some time now that Factor 5 is developing a title for the Wii. Certainly many gamers are aware of the Kid Icarus revival rumors. As far as concrete revelations go though, CEO of Factor 5 GmbH Germany, Achim Moller, shared that the company was creating a new Wii game through his LinkedIn profile. Interestingly, someone discovered that Moller updated his profile slightly and it now states that Factor 5 has "multiple unannounced" Wii games and are listed for 2009. While I'm personally not too sure that these projects would be released this year, perhaps we could hear news sometime in the next few months? E3 would have been an optimal time to make an announcement, but we all know that there were no Factor 5 titles at the convention.


BEAVER DEFENSE and MOBILE MAYHEM have a new online home

New York, New York, July 14, 2009 – Vogster Entertainment, an international innovator in video game design and content, today unveiled a new online destination for fans of their upcoming ROBOCALYPSE games. Gamers looking for more information about ROBOCALYPSE – BEAVER DEFENSE (WiiWare™) and ROBOCALYPSE – MOBILE MAYHEM (iPhone), can visit www.robocalypse.com and discover a wealth of game information, artwork and images from both titles.

Visit the Robocalypse official site:
http://www.robocalypse.com

Follow us on Facebook:
http://www.facebook.com/pages/Robocalypse/75826035885