DSiWare
1 (1) – Flipnote Studio
2 (2) – Nintendo DSi Browser
3 (3) – MySims Camera
4 (5) – Dragon Quest Wars
5 (4) – Mario vs. Donkey Kong: Minis March Again!
6 (6) – Guitar Rock Tour
7 (7) – Paper Airplane Chase
8 (8) – Asphalt 4: Elite Racing
9 (N/A) – Thorium Wars
10 (9) – Bird & Beans
11 (13) – Mario Clock
12 (12) – Dr. Mario Express
13 (10) – WarioWare: Snapped!
14 (11) – Art Academy: First Semester
15 (N) – Pinball Pulse: The Ancients Beckon
16 (14) – Oscar in Toyland
17 (15) – Mario Calculator
18 (17) – Sudoku Student
19 (16) – Clubhouse Games Express: Strategy Pack
20 (18) – Puzzle League Express
WiiWare
1 (1) – Contra Rebirth
2 (2) – Reel Fishing Challenge
3 (3) – My Aquarium
4 (4) – World of Goo
5 (5) – Tetris Party
6 (N/A) – Word Searcher
7 (6) – Texas Hold'Em Poker
8 (10) – Dr. Mario Online Rx
9 (8) – My Pokemon Ranch
10 (12) – DRiiFT Mania
11 (7) – Final Fantasy IV: The After Years
12 (11) – Arkanoid Plus!
13 (9) – You, Me, and the Cubes
14 (13) – Sexy Poker
15 (14) – Defend your Castle
16 (17) – Family Mini Golf
17 (16) – Brain Challenge
18 (15) – Water Warfare
19 (18) – Bust-A-Move Plus!
20 (19) – Tales of Monkey Island – Chapter 1

VC
1 (1) – Super Mario Bros. 3
2 (2) – Super Mario Bros.
3 (N/A) – Final Fantasy
4 (3) – Super Mario World
5 (4) – Super Mario Bros. 2
6 (5) – Super Mario 64
7 (6) – The Legend of Zelda
8 (7) – The Legend of Zelda: Majora's Mask
9 (9) – The Legend of Zelda: Ocarina of Time
10 (8) – Punch-Out!!
11 (10) – Mario Kart 64
12 (12) – Donkey Kong Country
13 (13) – Pac-Man
14 (15) – Super Mario RPG: Legend of the Seven Stars
15 (14) – Donkey Kong
16 (16) – Paper Mario
17 (17) – Sonic the Hedgehog 2
18 (18) – The Legend of Zelda: A Link to the Past
19 (19) – Galaga
20 (20) – Star Fox 64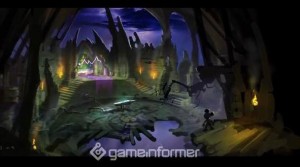 Game Informer is apparently having some issues with embedding videos, but you can watch the video at this link for now.
Speculation began in August that a special edition release of New Super Mario Bros. Wii would be made available at GameStop for those who pre-ordered the game. While that rumor doesn't seem too likely at this point, it has been confirmed that GAME is instead carrying a Limited Tin Edition of New Super Mario Bros. Wii. Other than the actual tin and boxart change, it's not clear if the package will include any additional goodies. However, you can check out some pictures of the box above.
FUN FOR ALL THE FAMILY!
That mischievous little imp, Cocoto, is back this winter along with his friends to amuse and delight young players with two new video games Wii™.

With an easy-to-use interface and unique accessories, the Cocoto range of games is accessible to all, even the least experienced players. All the family can get together for a furious round of Cocoto!
Some new, some old information…
– Releasing November 19
– 70 songs
– Old songs include "Linda Linda", "Cutie Honey", "Dragon's Soul", and "Cruel Angel's Thesis"
– New songs include "Be Your Wings" – the Tales of Vs. theme and "Family Don Don" from YMCK
– Adventure mode from Taiko no Tatsujin DS 2 is back and is expanded
– Daily challenges
– Game + drum for 7,980 yen ($89)
– Disc only will cost 5,040 yen ($56)
– Drum is hard plastic, not the inflatable one from the trademark
– Textures, sounds, lightmaps and other memory hogs need to be compressed due to WiiWare's size limit
– Developers trying to maintain consistency between WiiWare/PC versions
– Two control schemes:
1. Move hero with Wiimote
2. Move hero with nunchuck
– Devs trying to solve some technical issues with the WiiWare version
– Three composers contributing to the game's soundtrack
– Goal is to release the game in Q1 2010
– No pricing info yet, but will cost around the same as the Final Fantasy/Pokemon WiiWare titles
– Grotesque Tactics probably won't be the only Grotesque game
Thanks to Johannes for the news tip!