WiiWare
BIT.TRIP CORE – 274
Bust-a-Move Plus! – 263 blocks
Heracles Chariot Racing – 305 blocks

VC
California Games – 44 blocks
DSiWare
Art Style: Base 10 – 97 blocks
Asphalt 4: Elite Racing – 111 blocks
Shadow of the Colossus and Ico director Fumito Ueda was interviewed in a recent edition of Level magazine. In the interview, one subject discussed is Ueda's opinion on Super Mario Galaxy. Apparently there is one level in the game that some members of the press and even fans claimed had borrowed from Shadow of the Colossus. However, Ueda believes that too big a deal was made out of it. Speaking about Mario Galaxy in general though, he thinks that the title "wasn't as entertaining as it could have been" and that he "expected a little more."
"Of course I have played it, I couldn't resist after hearing that Miyamoto-san was inspired by me. But I have to say that I had expected a little more. That particular level (and the rest of the game) wasn't as entertaining as it could have been. I think the press and the fans made too much of a fuss about him (Miyamoto) borrowing from me. And the atmosphere on the internet became a little heavy. What I'm critical against isn't the fact that they borrowed something that actually isn't even originally from me, but the fact that they didn't make anything more interesting out of it."
EXCLUSIVE GREEN DAY TRACKS AND MAYHEM FESTIVAL ARTISTS COME TO Wii ROCK BAND®®

Plus tracks from The Presidents of the United States of America, The Offspring, Lamb of God and more!

Cambridge, Mass. – July 6, 2009 – Harmonix and MTV Games today announced 28 tracks from artists including Green Day and artists performing at the RockStar Energy Drink Mayhem Festival, as well as back-catalog tracks from The Presidents of the United States of America, The Offspring, Lamb of God and more, coming this week to the Rock Band® Music Store catalog of downloadable content for the Wii™ system.

As previously announced, the Green Day tracks available for download this week are the first in an exclusive deal between MTV Games' Harmonix, Green Day and Warner Music Group to bring the band's songs to the Rock Band platform. These first songs, "21 Guns", "Know Your Enemy" and "East Jesus Nowhere," are from the band's latest album, 21st Century Breakdown. Eight songs from artists performing at the RockStar Energy Drink Mayhem Festival, including Behemoth, Cannibal Corpse, Marilyn Manson and Slayer, will also be available for download this we ek in the Wii Rock Band Music Store. The RockStar Energy Drink Mayhem Festival is a new summer touring metal and rock festival in the United States during July and August, assembled by Vans Warped Tour founder Kevin Lyman.
Unleash the Power of the Gods in Ancient Greece in Neko®€TMs New Chariot Racer

PARIS, FRANCE – July 6th, 2009 – Neko Entertainment an independent premier video game developer and publisher announced today the upcoming release of Heracles Chariot Racing on WiiWare™, a racer that will drive players new and old to distraction. Featuring ten circuits in five mythological fantasy settings, players take control of one of eight gods or legendary creatures from Heracles to Poseidon as they race to become Champion Charioteer. Heracles Chariot Racing will be released on July 6th on WiiWare, first in the Americas, then later in Europe.

"We are excited to announce the upcoming release of Heracles Chariot Racing for WiiWare", said Laurent Lichnewsky, Managing Director of Neko Entertainment, "With its blisterning fast racing action, mytholigical tracks and enemies, split screen multiplayer modes, Heracles Chariot Racing is destined to become a WiiWare classic for players, both young and old".
1 1 FIGHT NIGHT ROUND 4 EA CANADA EA SPORTS ELECTRONIC ARTS
– 2 TIGER WOODS PGA TOUR 10 EA TIBURON EA SPORTS ELECTRONIC ARTS
6 3 TRANSFORMERS: REVENGE OF THE FALLEN LUXOFLUX ACTIVISION ACTIVISION BLIZZARD
4 4 WII FIT NINTENDO NINTENDO NINTENDO
5 5 UFC 2009: UNDISPUTED YUKE'S THQ THQ
– 6 CALL OF JUAREZ: BOUND IN BLOOD TECHLAND UBISOFT UBISOFT
3 7 THE SIMS 3 THE SIMS STUDIO EA GAMES ELECTRONIC ARTS
2 8 [PROTOTYPE] RADICAL ENTERTAINMENT ACTIVISION ACTIVISION BLIZZARD
8 9 VIRTUA TENNIS 2009 SUMO DIGITAL SEGA SEGA
– 10 HARRY POTTER & THE HALF-BLOOD PRINCE EA BRIGHT LIGHT EA GAMES ELECTRONIC ARTS
Another year of American independence isn't the only thing we're celebrating this week. With new releases, including the hotly anticipated game BIT.TRIP CORE, Nintendo crosses the 100-game mark in its ever-growing WiiWare™ game library, a milestone that ought to keep fans ooh-ing and ahh-ing long after the Fourth of July. Other WiiWare offerings this week will have players bursting bubbles and racing in chariots, whether solo or with friends. Nintendo DSiWare™ welcomes a new Art Style™ title and a unique auto racing game, while a classic Commodore 64 title will have Virtual Console™ users tearing it up California style.
Square Enix just opened up the official website for Final Fantasy Gaiden: Four Warriors of Light and has revealed that some fairly legendary talent is handling the project. Takashi Tokita, who has worked on the likes of Chrono Trigger, and Final Fantasy III/IV/VII is the director. This isn't Tokita's first experience with the DS, as he has been a part of the Final Fantasy IV remake on the DS (director/executive producer). You can check out the staff roster which was posted on the website below.
Producer – Tomoya Asano
Character design/art director – Akihiko Yoshida
Sound director – Tomohiro Kamiya
Developer – Matrix
Director – Takashi Tokita
Also interesting is a subpage on the site for specs. According to the page, Final Fantasy Gaiden will feature multiplayer connectivity for up to four players. However, we'll have to wait and see what the developers are planning.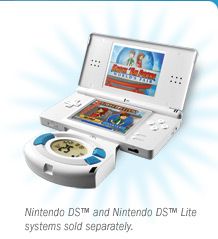 Both the Wii and DS have seen several health peripherals to encourage healthy lifestyles. Personal Trainer: Walking on the DS and Wii Fit, Wii Sports, and even the upcoming Wii Vitality Sensor add-on are all prime examples. But the Big N isn't the only company to be involved in some sort of health tool. Bayer HealthCare is developing the DIDGET Blood Glucose Monitoring System, which can be used for children that have diabetes. It fits right into both the original DS or DS Lite systems. Based on consistent testing, kids can earn points and unlock rewards. It's certainly a nice way to mix health with gaming!
"Bayer's DIDGET™ is the only blood glucose meter that plugs into a Nintendo DS™ or Nintendo DS™ Lite system. This unique meter helps encourage consistent testing with reward points that children can use to buy items within the game and unlock new game levels. And, since the DIDGET™ meter is based on Bayer's trusted CONTOUR™ system, you know you're getting a meter that's reliable." – Product description
Thanks to Jake for the news tip!
Thanks to _Contra_ for the news tip!