Some new details about Monster Hunter 3 have been released.
– Online play – 4 player groups
– City provides an area for chatting, meeting up other players. For single-player, the city turns into a village with new facilities and access routes for the island over time
– Kaname Fujioka (director) wants to restart Monster Hunter with news ideas – One reason why the game will be on the Wii
– Set on an unexplored island – forests, caves, deep underwater environments
– Complete swimming controls available in underwater environments
– Hunt submerged beasts, hunt fish (can be used as ingredients)
– Most weapons available on land can also be used in water
– Air gauge when you're underwater, stamina gauge when running on land
– Light torches in caves to see the surrounding area in caves
– Old and new monsters – old monsters will have a "freshness" quality as well
– Huge underwater dragon serves as main monster, can fight him while swimming or walking
– Playable at TGS
The Pokemon craze is as strong as ever, which can be seen from the latest sales data of Pokemon Platinum. The game moved 967,675 units in just two days. Even though Platinum isn't exactly a new iteration of the Pokemon games, fans have been more than eager to pick up the title.
REDMOND, Wash.–(BUSINESS WIRE)– Women who prefer the hottest designer handbags draped over their arms will now be able to have the hottest portable video game system at their fingertips as well. Nintendo has partnered with From Bags to Riches, a popular online handbag-rental service, to include stylish and colorful Nintendo DS™ systems and games with some rentals through the end of 2008.

From Bags to Riches subscribers will have the chance to borrow a Nintendo DS and games, free of charge, with a 30-day rental of one of From Bags to Riches' featured handbags from such coveted designers as Prada, Tory Burch, Gucci and Juicy Couture. Consumers can choose the handbag and Nintendo DS that best suit their taste on FromBagstoRiches.com. After the conclusion of the rental period, consumers simply return the Nintendo DS along with the bag.

The designer handbags will be accompanied by a variety of chic Nintendo DS colors, including Metallic Silver, Metallic Rose, Onyx, Crimson/Black or Cobalt/Black. Subscribers will also be able to select from a collection of popular games such as Mystery Case Files™: MillionHeir™, Brain Age™: Train Your Brain in Minutes a Day and Nintendogs™.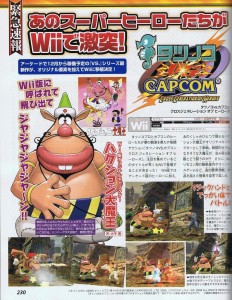 Not only is the game confirmed for a Wii release, but it should be available December 11 in Japan.
Carlsbad, CA – September 16, 2008 – JENGA® DONKEY KONG™: Collector's Edition gives fans the chance to spin, balance and build their way to the top to save Pauline from DONKEY KONG. Donkey Kong Jenga is the first and only game that allows fans to experience Jenga's "hold on to your seat" excitement with a classic Donkey Kong video game twist, which puts players to the task of saving Pauline from Donkey Kong using Mario playing pieces.

Made by USAOPOLY under license from Pokonobe Associates and Nintendo, this Collector's Edition features 54 black hardwood blocks decked out with the iconic Donkey Kong girders. Build your custom Donkey Kong Jenga tower the traditional way or climb the girders with your MarioTM mover and save Pauline from Donkey Kong in a new and even more challenging way to play Jenga. Mario, Donkey Kong and Pauline playing pieces and a custom Donkey Kong spinner are included for alternate game play. Either way you play you are guaranteed edge-of-your-seat fun!

JENGA® DONKEY KONG™: Collector's Edition is appropriate for ages 6 and older and appeals to Jenga and Donkey Kong fans everywhere. This collector's edition will debut in October 2008, just in time for the holidays. The game will be available at National Retailers such as Barnes & Noble, FAO Schwarz, Thinker Toys, Nintendo of America Stores, Games N More, UrbanOutfitters,com, Amazon.com, and Gamestop.com. JENGA® DONKEY KONG™: Collector's Edition takes us back to the days of the traditional Donkey Kong game…with a twist! Suggested retail is $24.95.
Okay, let's face it. E3 pretty much stunk for Nintendo fans. As exciting as Animal Crossing: City Folk and GTA: China Town Wars are, they were not huge titles that gamers were expecting. No Punch-Out. No Kid Icarus. No Mario or Zelda. Not even footage of Pikmin. Nintendo may redeem themselves for their E3 event, however, with their rumored conference this fall. However, it might not be a rumor much longer. Another Japanese website is claiming that the event is indeed real and will be hosted October 2nd. Better yet, as is roughly translated, "new products" will be present. So, will Kid Icarus finally be shown? Or anything else that will keep the hardcore satisfied? We'll know for sure this October, by the look of things are as of now.
What has become commonplace with the Madden franchise will now carry over to James Bond: video game releases every year. Activision Blizzard has stated that there will be a new James Bond game each year, with or without a movie. Hopefully Activision will find a way to keep the James Bond formula fresh annually so that each new release feels as though it was released with a purpose.