AS FORMULA ONETM ENTERS ITS MOST EXCITING SEASON EVER, CODEMASTERS® ANNOUNCES A NEW GENERATION OF OFFICIAL FORMULA ONE VIDEO GAMES
Official F1 2009 and F1 2010 video games revealed and formats confirmed. Trailer video now live at www.formula1-game.com
Friday 24th April/… A new generation of FORMULA ONE video games featuring Lewis Hamilton, Fernando Alonso, Sebastian Vettel and all the official drivers, teams and circuits from the 2009 FIA FORMULA ONE WORLD CHAMPIONSHIP™ was announced today by Codemasters®, the developer and publisher of award-winning racing video games, under its exclusive worldwide agreement with Formula One Administration Limited.

The first title in the series, F1 2009™, will debut on Wii™ and PSP® (PlayStation®Portable) system this autumn. F1 2009 will deliver an authentic and accessible recreation of the current FORMULA ONE season, including, for the first time in a FORMULA ONE title, the stunning Singapore night race. A trailer video is now live at www.formula1-game.com, Codemasters' new online destination for the game.








PS3 62,527
PSP 40,065
DSi 38,287
Wii 13,221
Xbox 360 8,652
DS Lite 6,438
PS2 4,230


Live Wii is reporting that LostWinds 2 will be revealed at E3. You know how these things go…People hear information from their sources, and that's about it. In this case, however, it seems more than likely that Frontier would save this year's E3 for a LostWinds 2 announcement. We know that the game is coming, it's just a matter of when.


Wedbush Morgan analyst Michael Pachter has stated that there is no point in making mature games for the DS. Patcher reasons that there is no audience that purchases such games. Meanwhile, in spite of the sales of GTA: Chinatown Wars, Take-Two will continue to support the DS.
"There may be a lot of 'adults' who own DS hardware, but look at the ads: America Ferrera, Liv Tyler, Beyonce, and Carrie Underwood are all targeted at teen girls or women. It's pretty clear to me that the 'older' DS demographic is largely female, and that they play Brain Training, Nintendogs, and Rhythm Heaven, not GTA: Chinatown Wars. There's no point making games for an audience that is not there."

I wouldn't go as far as to say that it's pointless to create more mature titles for the DS. In spite of the fact that the sales of Chinatown Wars have been underwhelming thus far, it might be best to see how the title performs in the long haul.
Meanwhile, in spite of the sales of GTA: Chinatown Wars, Take-Two will continue to support the DS.

"We have and we will continue to support the platform. We think the mature segment of the DS market is growing."




Five thieves were involved with a crime in which six video game systems taken from the Northside Baptist Church in Wilmington, North Carolina. A Wii, a 360, and a number of PlayStation 3 systems were stolen.
One suspect was able to hide in the bathroom until the church closed for the night. Later, he opened the back door for his friends. The group then proceeded to rip consoles from the wall (see image below), which would end up costing $3,200 in damages.
The crime was reported the next day. The whole act was recoded thanks to a camera inside the church. Some of the thieves attempted to sell the consoles to GameStop, but because the store records serial numbers, investigators matched codes and managed to return three consoles.
Only one of the suspects still remains in jail. Gasim Wood, 29, has been charged with two counts of obtaining property by false pretense and breaking and entering. His secured bond is set at $15,000.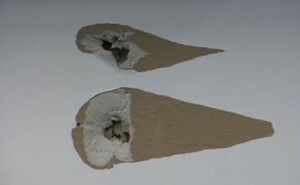 DSiWare
Real Football 2009 – 800 points
WiiWare
Crystal Defenders R1 – 800 points
Adventure Island: The Beginning – 1000 points