Choice Provisions announces Runner3, launching next year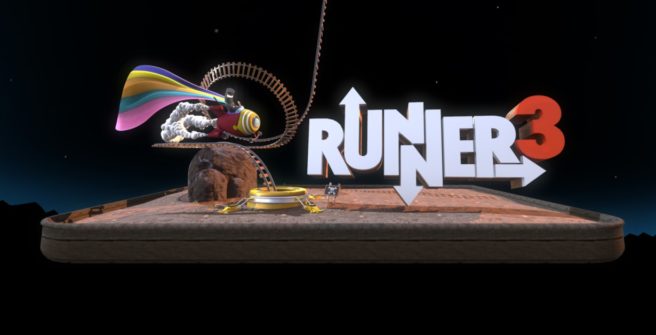 Update: Choice Provisions has confirmed that Charles Martinet will be returning to lend his voice to Runner3.
For those asking: Charles Martinet will indeed be returning for Runner3! #whataflavor

— Choice Provisions (@TotallyChoice) September 26, 2016
---
Original: Choice Provisions has announced Runner3, the next game in the Bit.Trip Runner series.
A notice posted on the project's new site reads:
Runner3 is the upcoming (and perhaps unsurprisingly) third entry in the BIT.TRIP RUNNER series. We're committed to making it the best game we've ever made, and we want you to hold us to it. You can follow the game's development over on our devlog, where we encourage you to chat with us in the comments section of our weekly updates.

We plan to be very open with you about the creation of Runner3, and we even plan to solicit feedback occasionally and offer user polls to give everyone a chance to chime in and help us think of things like level names, possible unlockable outfits, and more.

Let's work together to make Runner3 the best game it can be!
We also have the following teaser:
That's all for now. Runner3 is due out next year, so there's plenty of time to share information about the game. I'd say it's likely that we'll be seeing it on a Nintendo platform, though nothing is confirmed at the moment.
Bit.Trip Runner started out on WiiWare, and eventually headed to other platforms including 3DS as part of the Bit.Trip Saga. Runner2: Future Legend of Rhythm Alien was then released on Wii U and other platforms in 2013.
Leave a Reply