Dual Core heading to the Wii U eShop soon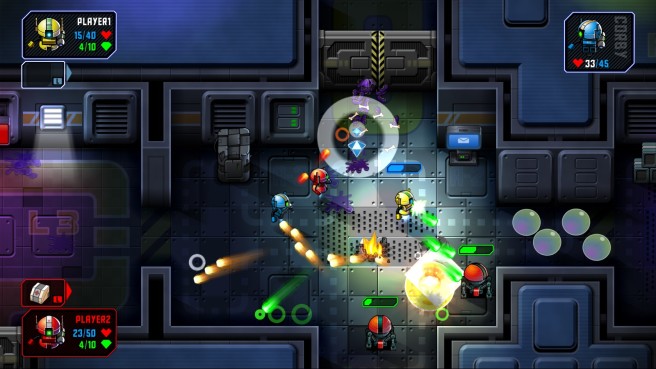 Gray Fin Studios' twin-stick shooter "Dual Core" should be on the Wii U eShop soon. Development is complete, and it will be submitted to Nintendo for review soon. We should be getting it in February or March.
Gray Fin Studios shares the following information about its indie title:
Dual Core is a vibrant, futuristic, "twin-stick" style, shooter, with a strong focus on local co-op multiplayer (up to 4 players). Lots of robots, lots of lasers, lots of aliens, lots of explosions! The numerous retro arcade influences are front and center, but spiced up with a colorful modern style, a generous helping of sci-fi intrigue, and a dash of RPG ELEMENTS! This isn't an arena shooter (though there is an arena-style arcade mode); there's a full story mode with a ton of handcrafted levels to explore, and battle through.

Dual Core has been in development for several years now, and originally was conceived as a mobile/tablet game – however, somewhere along the line, I realized that very few of my favorite games were actually on mobile devices, *most* of them were in fact, on the Wii U, and usually because of the local multiplayer. So I decided to trust my instincts and that became the focus – our goal is to get players having a blast, working together, laughing, and (occasionally) yelling at the each other! One of my fondest gaming memories was playing co-op Gauntlet as a kid, and that's still a strong influence today.

But it's not just multiplayer – even in single player, you don't play alone; your robot buddy "Corby" sticks with you, and battles by your side through the whole game. So in a way, it's co-op multiplayer, even when it's not.
You can watch a trailer for Dual Core below.
Leave a Reply