Etrian Odyssey IV dated for North America, bonus items for early buyers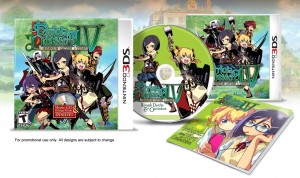 Etrian Odyssey IV: Legends of the Titan is hitting North America on February 26, 2013. The initial production batch will come will a limited edition art book and music CD.
A sample of the art book can be found here. The book will feature imagery from the game, as well as a brand new piece of art for the North American audience crafted by illustrator Alexandra Douglass.
The "Rough Drafts & Outtakes" CD is made up of early arrangements composed by Yuzo Koshiro along with tracks that did not make it into the final game.
Atlus has also confirmed that Etrian Odyssey IV will be available on the eShop when it launches next year.
Source: Atlus PR
Leave a Reply