Update: Added boxarts – Europe: Wii U games join Nintendo Selects lineup in April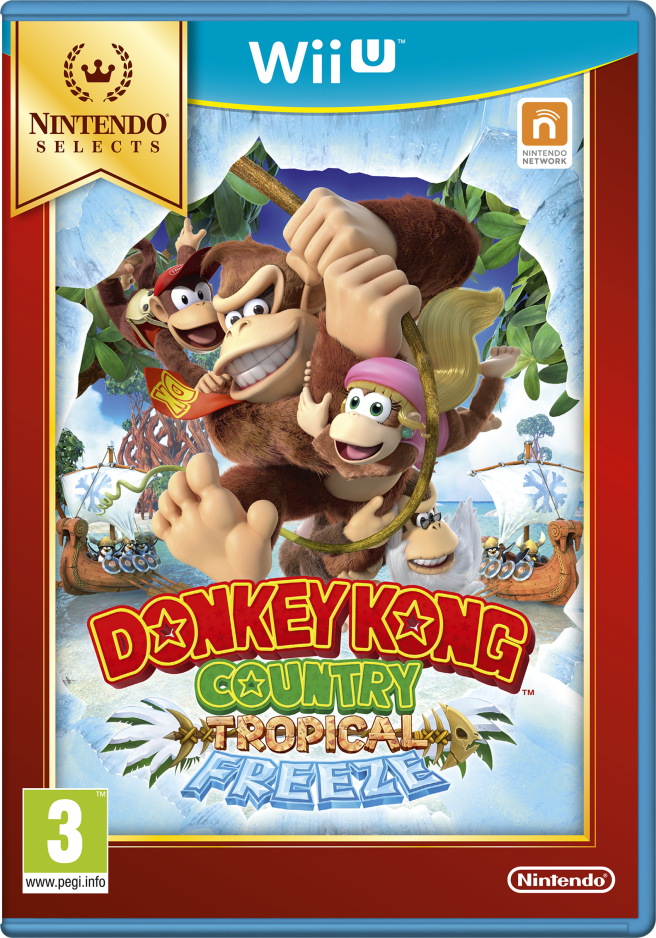 Update: Added boxarts.
---
Back in September, Nintendo announced the Nintendo Selects program for Europe – select Nintendo 3DS titles getting both a reprint and a permanent discount. Today, Nintendo announced that several Wii U games will be added to the lineup on April 15th. Each game will cost €24,99 / £19.99, both in stores and on Nintendo eShop. The games are:
New Super Mario Bros. U & New Super Luigi U (bundle pack; the standard version of New Super Mario Bros. U will be removed from the eShop on April 15th)
Donkey Kong Country: Tropical Freeze
Wii Party U
The Legend of Zelda: The Wind Waker HD
Lego City Undercover
Head past the break for today's full announcement.
10th March 2016 – If you want to discover a game you may have missed the first time around, the Nintendo Selects range and its wide variety of gaming experiences is the ideal place to start. There are already over 25 classic titles available to enjoy as part of the range, including The Legend of Zelda: A Link Between Worlds and Star Fox 64 3D for Nintendo 3DS family systems, as well as Super Mario Galaxy 2, Mario Kart Wii and Wii Sports Resort for Wii*. On 15th April, the Nintendo Selects range will grow even stronger with the addition of six Wii U titles representing some of the console's most popular games, having sold a combined total of over 4 million units across Europe to date**.

The line-up is set to include a wide variety of titles, including classic platforming action:

New Super Mario Bros. U + New Super Luigi U: In New Super Mario Bros. U, Mario, Luigi and Toad are joined by a new character – you! Run, leap and stomp through a 2D side-scrolling Mario adventure, and play as your Mii in extra modes like Challenge and Coin Battle. Explore a giant world map full of brand new courses, and experience ways to play that are only possible on Wii U. Then, in New Super Luigi U, leap into 82 challenging new courses as Luigi, but be quick, as you only have a short time to clear each one! This pack is available for the first time across Europe as a separate purchase from the Mario & Luigi Premium Pack Wii U hardware bundle.***

Donkey Kong Country: Tropical Freeze: The invading Snowmads have locked Donkey Kong Island in a deep freeze, and it's up to the Kongs to thaw things out! On your own or with a friend, swim, swing and spring through six brand new islands packed with hazards, hidden collectibles, and unforgettable boss encounters.

The new additions to the Nintendo Selects range also includes a multiplayer experience only the Wii U can offer:

Wii Party U: Get together for a party game that uses the best features of the Wii U GamePad and your Wii Remote controllers, featuring 80 quirky minigames that players of all ages and skill levels can enjoy. Experience closely fought battles as you and a friend grab opposite ends of the GamePad in GamePad Party minigames, then gather around your TV with your GamePad and Wii Remote controllers for frantic mayhem in TV Party mode****.

And for players who prefer to go alone, there are two absorbing solo adventures to experience:

The Legend of Zelda: The Wind Waker HD: Link appeared in 1080p for the very first time in this high-definition remaster of The Legend of Zelda: The Wind Waker, originally released for Nintendo GameCube. Set sail across the Great Sea, as Link's quest to save his sister takes him on an unforgettable journey to save the land from Ganondorf.

LEGO® CITY Undercover: As legendary detective Chase McCain, you'll go undercover on the trail of escaped criminal Rex Fury. Disguise yourself in different costumes and use their abilities to solve puzzles, collect over 100 vehicles, and free-run across an open-world city – all in the name of police work!

Wii U owners can look forward to another way to experience some classic exclusive games when these six titles join the Nintendo Selects range across Europe on 15th April. These titles will also be made available for €24,99 / £19.99 (incl. VAT) on Nintendo eShop on the same day
Source: Nintendo PR
Leave a Reply