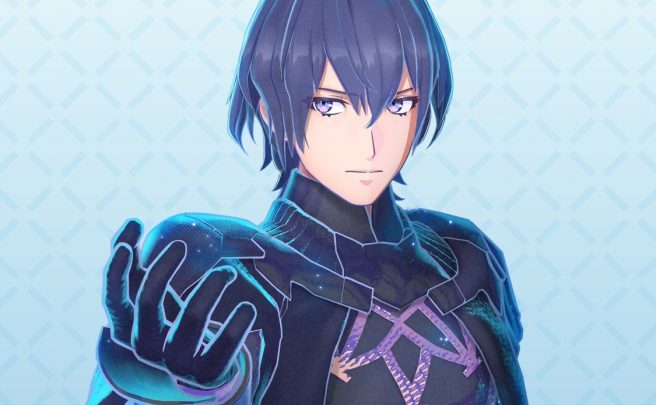 Byleth makes an appearance in Fire Emblem Engage as one of the characters players can summon, and details about him have now been shared on the series' Japanese Twitter account. Serenes Forest provided a translation.
Byleth, who is voiced by Yusuke Kobayashi in the Japanese version, is a former mercenary and now acts as an instructor at the Officer's Academy. In Fire Emblem Engage, he can increase the abilities of allies to guide them towards victory. Byleth performs the best when surrounded by allies rather than being alone.
And here's some information about his skills and weapons:
Emblem Byleth's Sync skill "Divine Pulse" allows attacks that would have otherwise missed their target to hit, with a fixed chance of triggering.

Emblem Byleth's Emblem weapons are the Heroes' Relics, special weapons that adapt to the class type. For example, "Mystical" units can wield Thyrsus, a staff that increases the range of their magical attacks by 2 squares.

Emblem Byleth's Engage skill "Instruct" allows Byleth to use a command that increases the stats of allies around him for 1 turn. The stat boosted depends on the class type of the Engaged unit. For example, if a "Dragon" unit uses it, it boosts all 7 stats by 3 points.

Emblem Byleth's Engage skill "Goddess Dance" is a powerful gambit that allows up to 4 adjacent allies to move again, as well as boosting their stats. By combining this with high mobility units, such as Fliers, it's great for turning situations around in far-off areas.
You can see some gameplay for Byleth in Fire Emblem Engage below. Towards the end, we have a conversation with the always negative Alcryst who reads too much into Byleth's words of praise.
Fire Emblem Engage is slated for January 20, 2023 worldwide. We also have character introductions for Alear here, Framme and Cramme here, Marth here, Alfred and Celine here, Celica here, Louis here, Chloe here, Sigurd here, Etie here, Boucheron here, Lumiere and Veyre here, Diamant and Alcryst here, Anna here, Ivy here, Timerra here, and Zephia and Marni here.
Leave a Reply