Fire Emblem Warriors devs on the end of DLC, Awakening DLC Pack, why Darios isn't playable, sequel interest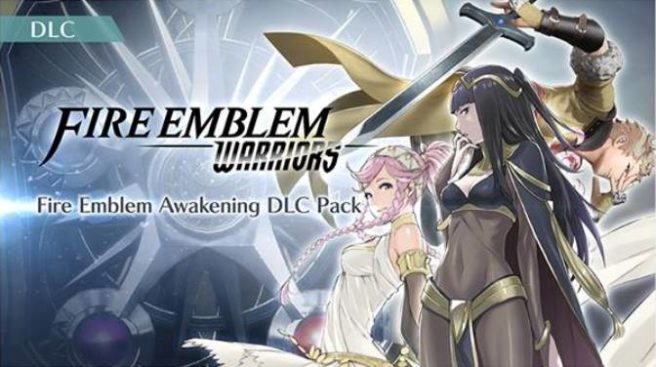 In this month's issue of Nintendo Dream, the Japanese magazine posted its final interview with a couple of the Fire Emblem Warriors developers. Director Hiroya Usuda and producer Yosuke Hayashi stopped by to primarily discuss the Awakening DLC Pack. They also weighed in on the end of DLC, why Darios isn't playable, and showed some interest in making a sequel.
Find some excerpts from the interview below plus some concept art. You can read the full discussion here.
On how all of the DLC has finally wrapped up…
Usuda: "It's over; that was long" is what I'm honestly thinking. At the very beginning, we were working with the 3DS version of Hyrule Warriors as a base, and we had Link running around in this very early, rough version. Roughly half a year has passed since the game's launch and we've created many DLC characters for everyone to use. We received opinions via Twitter and enjoyed reading fans' reactions after the release. In addition, we progressed onto the DLC, where we enjoyed communicating with fans, while thinking of what to do next.
Hayashi: I'm very grateful for all the fans who praised the game and affirmed our expectations. Also, now that the DLC is over, I feel like there's finally a great variety of weapons.
On adding Tharja…
Hayashi: When it came to creating the DLC, from the very beginning we absolutely wanted her to be in. Actually, we almost nearly added her to the main game, but we had to make some adjustments. Before this, we met with everyone from the Fire Emblem Cipher development team and Yusuke Kozaki, who worked on her design, and they talked about not expecting Tharja to be as popular as she is now. The staff who worked from the early stages of development were saying how they were amazed that the characters with really strong and unique personalities were so positively received. I suppose Tharja has a pretty unique personality (laughs).
On picking Olivia…
Hayashi: Olivia's inclusion was decided right towards the end.
Usuda: The other candidates were… Gaius and Lon'qu, but the main reason they were removed as candidates was because of their weapons. Gaius wielded daggers and daggers were a new weapon type then. Likewise with Saizo and Kaze from Fates, daggers had just come out and we had already established the weapon triangle, so since it would change the game mechanics, we decided not to add daggers. As for Lon'qu…
Hayashi: Because he was conceptually similar to Navarre…
Usuda: We already added Navarre in the 2nd DLC Pack (Shadow Dragon), so if we added Lon'qu, another sword user, in the 3rd DLC Pack (Awakening), well… (painful grin) Besides, Owain was introduced as a NPC, so we couldn't not add him. So we were debating what to do with two sword users. We looked within the pool of female characters and we already added Azura in the 1st DLC Pack (Fates), so we thought it would be interesting to have a character that had similar dancing abilities. Then we talked about Olivia and whether or not to let her dance.
Hayashi: In the end, we decided to release two dancers, Olivia and Azura, as DLC, but I felt like it was a good choice. Because it was a class newly added via DLC!
On what makes Owain special amidst all the sword-wielding characters…
Usuda: Owain has many special move names, so we tried to include as many of them as possible. In his victory movie, there's "Blazing Fire Sword" and "Blue Flame Sword" from the original games, but there are many new special moves that we created like "Goddess of Dawn Blade". Besides that, we thought of "Shadow Light Sword" to reference Shadow Dragon and the dual blade style "White Night Sword" and "Black Night Sword" that's based off Fates. After that… when we ran out of animations, we started putting them in Bond Conversations (laughs). There are many fans who are really enamoured with Owain. His conversations are really hilarious.
On why Darios wasn't made a playable character…
Usuda: When we were writing the game's main story, we were planning for Darios to be rescued via DLC… Originally, we considered removing a character from the main game to add Darios.
Hayashi: While we were trying to add all the characters we needed, we couldn't find an opportunity to add Darios.
Usuda: It's not so simple to make a playable character even if they already exist as a NPC in the main game. There's a lot more dialogue and animations that we need to create.
On sequel interest…
Hayashi: In terms of the development period, the project began at a time when the Nintendo Switch had not been revealed, Fire Emblem Heroes wasn't released and Fire Emblem Fates had recently come out. Together with Nintendo and IS, it was nice to be associated with the Fire Emblem IP and stay close to it, while watching it grow bigger. Because of pressure, I worried if the game would play well, but since we were able to understand the audience, it was a very enjoyable project. We feel regret for the characters we were unable to include. If there's the opportunity, I would love to make Fire Emblem Warriors 2, but that's not something we're working on right now. The Fire Emblem series itself has a long history. We're also fans of Fire Emblem and we hope to support it in the future.
Leave a Reply