First-person shooter RICO due out on Switch this fall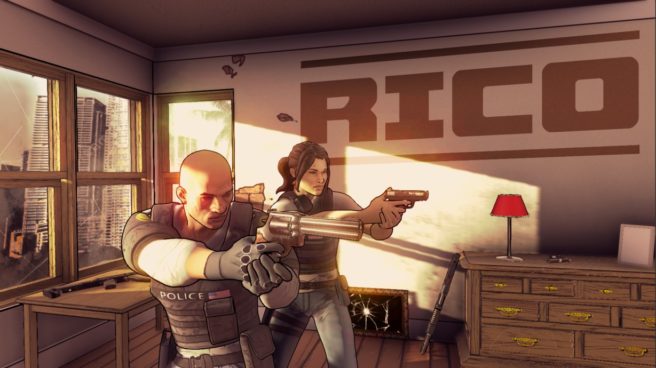 Rising Star Games has been announcing a number of new games lately, including Decay of Logos. The news continues today with RICO, which is due out on Switch this fall.
RICO is a new cooperative multiplayer first-person shooter. Players can team up with a friend either locally or online and move through procedurally-generated levels. New challenges will be available each day, and you can also unlock weapons, weapon customizations, and "traits" that can impact your characters' abilities.
We have more information about RICO below, along with a trailer.
The game's title stands for "Racketeer Influenced and Corrupt Organizations" Act, a United States federal law relating to criminal organisations. But forget that! Just kick down doors, shoot bad guys, and exploit the element of surprise to gain the upper hand against overwhelming odds, in this cooperative multiplayer first person shooter. Partner up with a friend in local couch co-op or online, to blast through an ever-changing series of procedurally generated levels. Come back every day for daily challenges and, as you play, unlock weapons, weapon customisations, and new "traits"– gameplay affecting rewards that modify, enhance and dramatically alter your characters' abilities.

RICO is an arcade-style, first-person shooter inspired by modern action cinema. In the game you and a friend play as a pair of loose-cannon police partners, given twenty-four hours to crack a case as part of an elite organised crime taskforce. Planning is tactical rather than strategic, players must react in the moment to shootouts as they unfurl, with additional extra time to assess the situation if they are able to surprise their adversaries. Ammo and enemies are plentiful, and combat is punchy and impactful, supported by an extensive destruction system that ensures every shot looks and feels great.

Features

– Online co-op and offline split-screen play
– "Daily play" with online leaderboards
– Randomly generated cases, operations, and environments
– Unlockable weapons, traits, and mission types
– Compete against the clock to solve a case in 24 hours
Source: Rising Star Games PR
Leave a Reply