Floor Kids reconfirmed for this holiday on Switch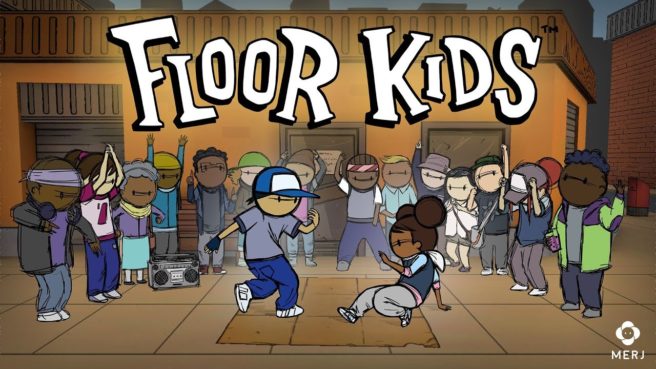 Update: New trailer added below.
---
Original: Floor Kids is a game we heard about for Switch during the last Nindies Showcase in August. While there hasn't been much news since that original announcement, MERJ Media has reconfirmed that it's on track for this holiday.
For those who missed the original announcement, Floor Kids offers freestyle gameplay, rhythm challenges, and multiplayer sessions. We have some additional information and a trailer below.
"Breaking" is an artform unlike any other, blending together new styles, sounds, and modes of movement: a community united by individual expression and mutual love for the funk in all its forms. Floor Kids – a new bboy/bgirl battle game featuring unique freestyle gameplay, rhythm challenges, and multiplayer sessions – invites you to define your style and build your crew as you get down across town from the backstreets to the big stage.

Floor Kids is an original concept by former bboy JonJon, a.k.a. award-winning animated filmmaker Jonathan Ng, and scratch DJ/producer/composer/novelist Kid Koala, a.k.a. world-renowned artist Eric San. Featuring JonJon's vibrant hand-drawn style and over 40 original unreleased Kid Koala tracks, Floor Kids lays down the tiles for moves that nod to the old school while staying tuned to the new.

Build up your crew of eight original bboy and bgirl characters as you learn to flex hundreds dynamic moves and countless combinations on your journey across the cityscape. Innovative controls and dynamic scoring earn you crowns for freestyle flow and rhythmic fire. Smash crowd requests to become the fan favorite, and battle your homies in one-on-one local multiplayer to see who's got the flavor to get from the corner to the club.

Floor Kids is unlike any other game out there, winning several awards for its innovative art style and control system. Floor Kids breaks the rules and lets you dance outside the lines. With a one-of-a-kind soundtrack and raw hand-drawn design, Floor Kids will turn you into a bkid in no time.

Bring Your Skills. Build Your Crew. Find Your Style.

• Unlock 8 unique characters each with 16 moves and over 100 transitions between them
• Find your style with innovative freestyle controls that perform toprock, downrock, power, freeze, and combo moves
• Win over the crowds with a scoring system that rewards musicality, originality, feel, and style
• Dance in many different locations, either in solo freestyle mode or two-player local party mode
• Stylized hand-drawn animations by JonJon
• Original music and sound design by Kid Koala
Source: MERJ Media PR
Leave a Reply