Galaxy of Pen & Paper +1 Edition planned for April release on Switch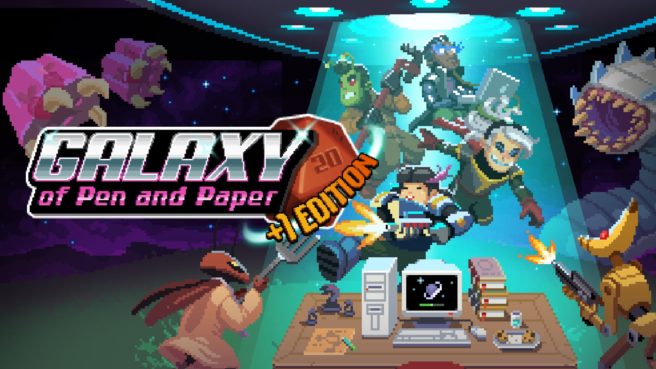 After it was confirmed back in June 2018, Galaxy of Pen & Paper +1 Edition has been dated for Switch. The game will launch on April 8 via the eShop, publisher Plug in Digital and developer Behold Studios announced today.
Here's an overview of the game, along with a trailer:
Create your own game master and RPG party, as they roleplay, explore distant planets in their imagination, fight weird aliens and save the galaxy in the era of dial-up internet and floppy disks!

Galaxy of Pen & Paper is a turn-based RPG that takes the pen and paper games of your childhood and launches them into space.

Set in the year 1999, a group of friends brave the perils of a strange new galaxy, armed with dice and unique skill sets.

The player creates their own Game Master and builds a party to play through a number of weird and exciting campaigns, earning prestige and unlocking new skills along the way.

Galaxy of Pen & Paper expands on concepts from its predecessor, Knights of Pen & Paper, by featuring a larger universe, a greater variety of races, and an imaginative new sci-fi setting.

Features:
– Turn-based combat system
– Customization options for character builds
– Expansive galaxy with multiple systems and numerous planets to explore
– Built-in dice mechanic for authentic tabletop game feel
– Ability to increase or decrease difficulty of battles

Includes +1 Edition: new characters, classes, skills, planets, quests, and more than 3 hours of gameplay!
Galaxy of Pen & Paper +1 Edition will cost $12.49 on the Switch eShop. You'll be able to save 20 percent if you own Chroma Squad, Old School Bundle, or Knight of Pen & Paper 1 or 2.
Source: Plug in Digital PR
Leave a Reply