Graphic refining director Yoshiki Haruhana on reimagining the visuals of Zelda: Link's Awakening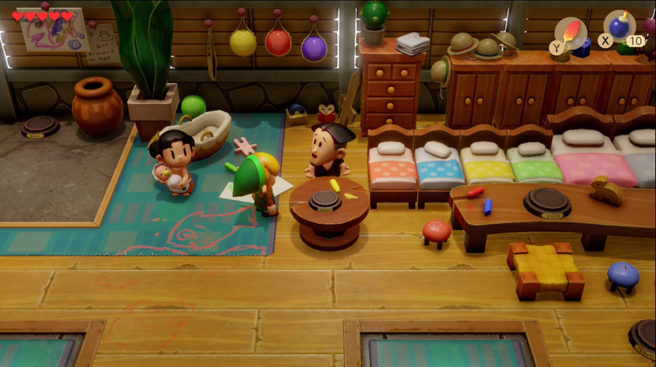 The Legend of Zelda: Link's Awakening was remade for Switch many years after it debuted on the Game Boy. Rather than re-releasing the game as it was, Nintendo and Grezzo opted for a new art style.
Graphic refining director Yoshiki Haruhana spoke about reimagining the visuals of Link's Awakening in a new blog piece. He shared the following:
Hello everyone. I'm Yoshiki Haruhana, and I worked on the graphic direction for this title. The Legend of Zelda: Link's Awakening was first released on Game Boy over 20 years ago, and it's a game that lots of people still have fond memories of playing. With that in mind, our approach of revamping the graphics was to make sure that we didn't make them feel 'forced'.

Instead of recreating the game with very modern graphics, we aimed to capture the simple universality that the pixel graphics of the time had. I hope that each person playing the game will project their own idea of Link's Awakening onto the game as they play.

We also aimed to make the game world feel as though you're peeking into a little diorama. Our vision for this game during development was to create a diorama world in which Link would be a 10cm-or-so tall figurine. We developed the game while imagining the world as if it might actually exist in miniature form, and so we aimed for a balance between two really contradictory ideas; to pursue the charm of a richly detailed creation, while also considering the scale we'd imagined for Link and being careful to avoid adding in too much detail beyond that. It turned out that finding this balance was much easier said than done!

Speaking of dioramas, it ended up that an actual diorama was displayed at E3 2019! The local staff worked incredibly hard and produced something truly spectacular! I was impressed with how well it turned out!

When I first heard they were going to create a diorama, I was a bit anxious as it felt very much like a test for whether we'd achieved what we set out to with the game's graphics. However, the beautiful craftsmanship was reassuring in that we'd made the right decisions, and it was really encouraging as we entered the final stages of development.

Turning back to the game, I'd just like to say that I hope you'll take breaks from exploring the island and its dungeons to just stop and have a peek into some of the houses. Plenty of this richly-crafted diorama feel has been packed into each of them. We've put in little details everywhere, even in those parts of the game that aren't part of the main story, and I would be ever so happy if you'd take the time to have a look around.
Leave a Reply