[Interview] Saber Interactive talks NBA Playgrounds, Switch version, developing for the system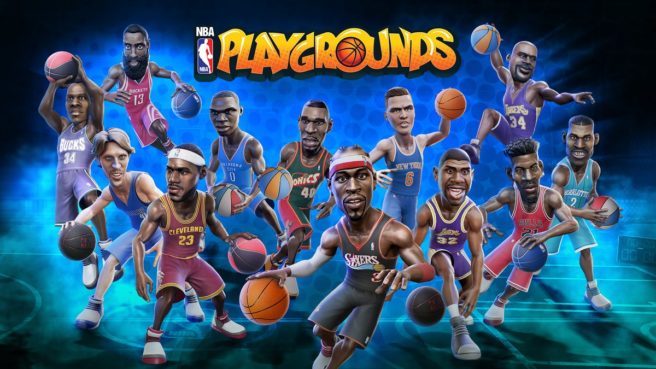 On Tuesday, Switch will have its first sports game. Saber Interactive will be releasing NBA Playgrounds, which just so happens to be the company's debut title on a Nintendo platform.
We recently spoke with Saber Interactive CEO Matthew Karch to learn more about NBA Playgrounds just ahead of its release. Karch chatted with us about the art style, roster, modes, update plans, and more. He also spoke about the Switch version, what it's like making games for the system, and future support on the console. If that wasn't enough, there's an interesting note about how the 2007 shooter TimeShift nearly ended up on Nintendo platforms.
Continue on below for our full interview.
To begin, can you share a brief overview of NBA Playgrounds?
NBA Playgrounds is an old-school arcade experience. It features current NBA players and many great legends of the past. It is definitely in the vein of NBA Jam/NBA Street but with a vibe all its own. You can play 2-player offline coop, 2-player online competitive, 4-player offline team matches or even solo. The game has real depth but it is super easy to pick up.
NBA Playgrounds marks the first time you're experimenting with the sports genre. What made the team interested in giving it a shot and creating a new type of NBA game?
This is an interesting question that has come up before. For Saber's studio in St. Petersburg it is definitely a new genre. But our team in Spain has worked on many sports titles in the past, from Rafael Nadal Tennis to the Wii Exclusive Hoop World. The decision to go for the NBA game was actually all mine. I have always loved basketball and had season tickets as a kid to the Miami Heat when they were just starting out. I was addicted to NBA Jam and NBA Street and was dismayed when the publisher decided not to pursue those franchises any longer. I saw an opportunity and I took it.
How has the process been in terms of working with the NBA in securing official licensing?
Very smooth. The NBA is great to work with. Their people are super smart and understanding and extremely responsive with regards to feedback and requests. It helps that I live in the NYC area as I can go in to see them at any time.
NBA Playgrounds has been drawing some comparisons to classic games such as NBA Street and NBA Jam. Are there any particular ways in which the team is taking inspiration from those titles? In what ways does NBA Playgrounds stand out?
Yes, in many ways. Those games were both major sources of inspiration for our title. Like I mentioned, they aren't being made anymore and we wanted that style of game to continue to exist for those of us that love arcade basketball and for generations like that of my son who have never been able to experience it. Our game is over-the top like Jam, but with more of a "Street" vibe. We have added our own twists with power-ups, collectible cards, tons of new moves, a great soundtrack and obviously with all the current players including LeBron, Curry, Westbrook and ultimately pretty much every current star. Our online component is also more robust and we are going to be supporting the game with regular content updates to keep the community engaged as much as possible.
Rather than going with an ultra-realistic look, NBA Playgrounds seems to be employing an almost cartoony presentation. How did you settle on the final art style?
If you want ultra-realistic, 2K does a fantastic job and that makes perfect sense for a sim, for a game that is as over-the-top as Playgrounds, we felt a more "fanciful" style made sense. The art approach really stemmed from the game type. When I was a kid I had my caricature drawn in NYC by an artist near Central Park I was excited to see how the artist pictured me. I get the same excitement every time I see how we render a character. It is cool, fun and a bit out-of-the ordinary.
How big will the roster be between current and retired players?
Ultimately our goal is to support every player currently in the league and almost all of the retired players. The roster will be well over 500 players within 8-10 months and will keep growing from there.
Can you outline the different modes included in the game?
The game features Exhibition Mode, Local Multiplayer Tournament Mode and Online matches. We are finishing up touches on 1v1, the slam dunk competition and 3-point competition which will drop as free updates soon after launch.
We've heard that players can be leveled up in NBA Playgrounds. Can you touch on how that mechanic works in the game?
When you get a player and use him in matches, he gains XP. After acquiring a certain amount of XP his level gets raised from bronze to silver to gold etc. With each new level, that player acquires more moves (crossovers, dunks, passes) that can be used in the game.
Will you be supporting the game with future updates (be it general improvements, content patches, or any sort of roster updates)?
Absolutely. We view this game as an ongoing experience that will grow with the community. It will have roster updates reflecting trades and free agency, new players, new playgrounds and new modes with regular updates.
Will the Switch version contain all features and content present in the other versions?
In short, yes. But I think it's worth noting that we didn't just port to Switch, we spent a lot of time making sure it felt perfect on the platform. We started development on this game far before we had details on the Switch, but as we got familiar with the system we fell in love with it. NBA Playgrounds is the ideal game for it.
Are there any plans to use Switch's unique features such as HD Rumble or having split Joy-Con for local multiplayer?
Absolutely! We're leveraging every unique feature of the Switch as best we can. Using the Joy-Con for local multiplayer is where NBA Playgrounds truly shines, in my opinion. If memory serves, in Nintendo's first ad for the Switch it shows some kids playing basketball, then they take a break for some local multiplayer gaming. I can see this happening in real life with our game!
Prior to this project, Saber Interactive hadn't made a game for a Nintendo platform. What's the experience been like in terms of working with Nintendo and receiving access to Switch development hardware? Did you reach out to Nintendo or was it the other way around?
We have been talking to Nintendo for years. In fact there was great interest in our game TimeShift back in 2007 and we were close to a deal on that. Many of our team members in Spain have worked on Nintendo platforms before and so there was definitely familiarity. Nintendo loves this game, so we were able to get dev kits quickly and have taken full advantage of that,
How has it been developing NBA Playgrounds on Switch in comparison to the other versions?
It has been surprisingly easy and smooth. My guys were thrilled with how quickly we had it up and running. We spent a lot of time on refinements, but in general the Switch is quite developer-friendly.
Is Saber Interactive working on any future projects targeted for Switch? If not, do you hope to work with the platform again in the future?
Yes, we are going to be putting Shaq Fu on the Switch as well as a new motocross title. We are also have a shooter coming out -not Quake! -that is a candidate for the Switch as well as it is 4-person coop and perfect for the platform. More on that soon!
Any final thoughts you'd like to share about NBA Playgrounds or Saber Interactive in general?
I am more excited about NBA Playgrounds than any of Saber's past titles. Saber has over 400 talented people on our team – and yet remains widely unknown – but I think that will change as we push into new territory. We're proud to be independent yet able to secure a license as powerful as the NBA We have worked on games such as Halo, the new Quake, TimeShift, and a host of other titles. NBA Playgrounds is our first game conceived, funded and developed in-house without any third-party. We are publishing in partnership with a new publisher – Mad Dog – but everything else has been entirely us. The game is super fun and I think it will build a great following.
---
Big thanks to Matthew Karch for taking the time to answer our questions.
Leave a Reply