Japan getting 12 new Mario toys for McDonald's Happy Meals in January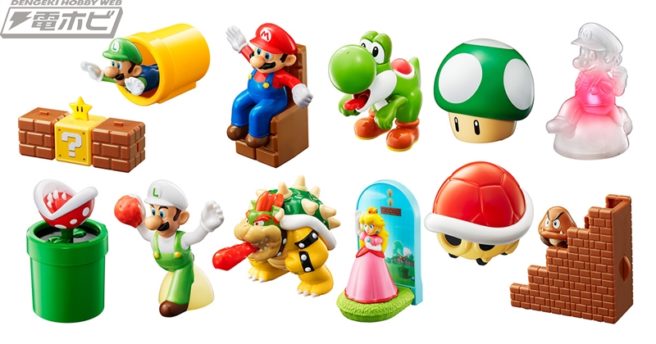 In January, Nintendo and McDonald's will be extending its partnership for Happy Meals in Japan. A new set of Mario toys will begin to appear starting on January 6.
In the toys, there are gimmicks that reenact the character movements and in-game sounds. Mario has a button that if pressed will move his hands up and down. Yoshi's back shell can be pushed to move its tongue forward. Peach will spin if she is dragged. Finally, the 1-Up Mushroom will make the related sound effect when pushed.
We heard about the latest plans between Nintendo and McDonald's in the UK earlier this week, which is beginning at around a similar time.
Continue on below for better photos of the new toys and names for each.
– Hand-swinging Mario
– Flying Luigi
– Munching Yoshi
– 1-Up Mushroom
– Connecting Brick Blocks and Question Block
– Invincible Mario
– Fire Luigi
– Spinning Peach
– Attacking Piranha Plant
– Start Dashing Red Shell
– Fire Breathing Bowser
– Walking Goomba
Leave a Reply