Kimishima on successful amiibo sales, some figures becoming evergreen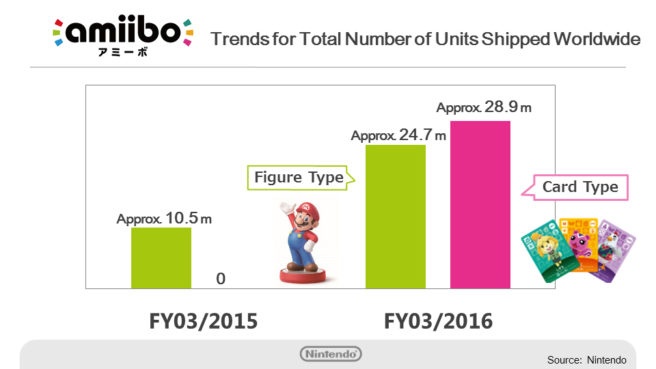 This information comes from Nintendo's investors briefing as stated by president Tatsumi Kimishima…
Next, we will cover the amiibo business. Over the fiscal year ended March 2016, we shipped about 24.7 million amiibo figures and about 28.9 million amiibo cards, a huge increase over the prior fiscal year.

By providing a continued presence for Nintendo characters in stores, we believe the amiibo platform has created great benefits for all of Nintendo's platforms.

These are the sell-through trends for Splatoon series amiibo in Japan.
Even after the start of the calendar year, the Splatoon series amiibo have continued to sell well, with sales approaching one million units in Japan alone.

This graph shows the total sell-through by quarter in the U.S. for several of the characters that were released with the initial launch of amiibo in November 2014.

Like software titles, some amiibo characters are also becoming evergreen, showing stable long-term sales with little seasonal fluctuation.
Leave a Reply