Kingdom Eighties out on Switch this month, new trailer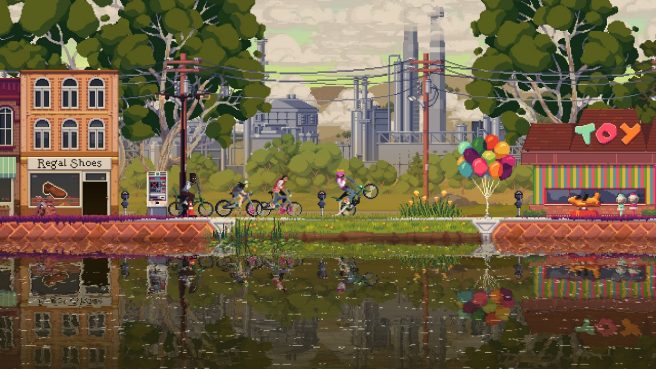 We've got a release date for Kingdom Eighties on Switch, and the game isn't far off with its launch planned for this month. Raw Fury and Fury Studios confirmed today that it will launch on October 16, 2023.
Kingdom Eighties, the new standalone game in the micro-strategy series, was previously announced for Switch in March. We knew it was due out sometime this year, but nothing more specific beyond that.
Here's an overview of the game:
A stylish new spin on the hit Kingdom franchise, Kingdom Eighties is an epic adventure of micro-strategy and base-building wrapped in the neon-retro vibes of the '80s. As the Leader, a young camp counselor, you'll team up with new friends like the Champ, the Tinkerer, and the Wiz to protect the town of Monarch from the relentless attacks of the mysterious Greed.

Recruit neighborhood kids and assign them roles like soldiers and builders, use coins to build and expand your kingdom, and fortify it by raising walls and defensive turrets. But be ready – when night falls, the Greed will attack without mercy. Explore your town, unlock new mounts, discover powerful weapons and tech upgrades, and manage your resources wisely to survive.

Key Features

Step into the Kingdom Franchise: Kingdom Eighties builds on the series' well-known world and mechanics with a new experience perfect for newcomers to learn the ropes and fall in love with the franchise.
Befriend Your Trusty Companions: Join forces with three supporting characters who will lend you their aid on your journey: the Champ, the Tinkerer, and the Wiz. Each has different abilities you can combine to progress through the game.
Hit the Streets in Style: Explore new urban locations never before seen in a Kingdom game. Find fresh wheels at the skateboard park, visit the shops on Main Street, and free the New Lands Mall from the Greed.
Live for the Summer: Kingdom's iconic, handcrafted, pixel-art magic is back with a distinctively '80s neon feel. Vibe to an original synthwave soundtrack from Andreas Hald, and travel back to the wonder days of bike rides and summer camp, when anything seemed possible!
Brand-New 'Survival Mixtapes' Mode: Press play on the mixtape in the pause menu and get ready for heart-pounding survival gameplay. Try your luck beating endless waves of Greed to earn yourself a crown – how many days will you last?
Celebrate the Kingdom Eighties release date news by watching a new trailer below.
Release Date Trailer
Leave a Reply