Kirby: Planet Robobot – first look at Kirby 3D Rumble, more Team Kirby Clash footage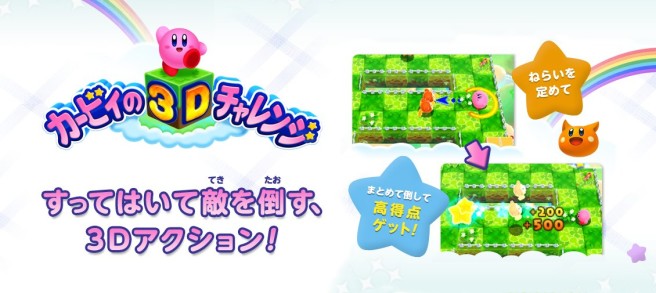 Nintendo has updated the Japanese Kirby: Planet Robobot website. With the latest information and footage, two sub-games are showcased: Kirby 3D Rumble and Team Kirby Clash.
Kirby 3D Rumble is actually called Kirby 3D Challenge in Japanese, but the former name should be used in the English version based on what was mentioned in Nintendo's fact sheet (since removed). As for the actual game, it's a 3D action spin-off that takes place on a 3D plane. The goal on each stage is to clear out all the enemies, which is done by picking them up and spitting them out (rather than absorbing their powers). Taking out multiple enemies with a shot increases Kirby's combo and helps wracks up your total score. There are various kinds of terrains and placements in each stage.
Team Kirby Clash is much more well-known, as it was given quite a bit of screen time during the Nintendo Direct earlier in the month. This is an RPG-esque brawl which supports up to four players, including Download Play. You can pick from one of four roles and cooperate with other Kirbys to fight against bosses. It's also possible to level up and take on more difficult quests. During battle, there will be collectable tablets (Power Tablets) that appear on the screen. If all tablets have been collected, you can activate the co-op skill Team Meteor.
Here's a look at both sub-games:
Leave a Reply