[Let's Talk] Octopath Traveler impressions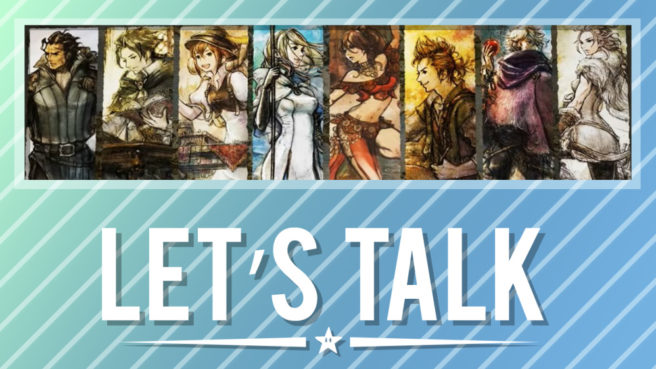 Octopath Traveler launched on Switch two weeks ago. Since the game has been out for a little while now, we want to hear about your impressions.
For those who have purchased Octopath Traveler, how much have you played? Are you enjoying the RPG? Are there certain aspects in particular you like or are disappointed with? Let us know in the comments below.
Highlights from last week's topic: Pikachu or Eevee?
King Orik
Was a bit torn after the announcement, but now I've settled on Eevee since this is the first time it gets the spotlight. A friend of mines gonna get Pikachu so then we can both catch them all on ours. Even though I'm not as keen for this as Gen 8, I am still really glad this is coming in November.
Gr
I think that I'm going to go for Eevee because I have Yellow and have already done the whole Pikachu thing. Eevee just helps differentiate them further in my mind, although I do wish that Eevee was going to be able to evolve
Sorrel Tilley
I'll be getting Pikachu because the only reason I'm buying the game is nostalgia. Wouldn't make much sense to pick Eevee.
Fayrin
I was really torn so I asked my sister which version she wanted, since I was fine with either one. She chose Eevee so I will go with Pikachu!
Leave a Reply