[Let's Talk] Potential SNES Mini games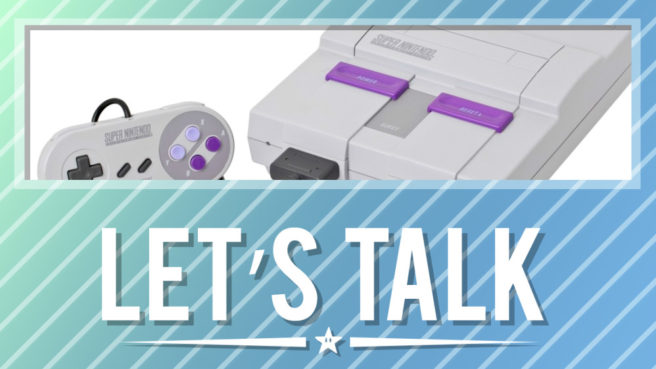 A big rumor surfaced this week about Nintendo potentially creating a SNES Mini for release later this year. Whether or not that actually happens remains to be seen. But with the NES Classic Edition / NES Mini being such a big hit, the possibility is certainly there.
So let's say that Nintendo does move forward with the SNES Mini. What games would you like to be included? Titles such as Super Mario World and Zelda: A Link to the Past would probably be safe bets. Are there any far out games you'd like to see though? What would be your dream lineup? Let us know in the comments below.
Highlights from last week's topic: April 2017 Nintendo Direct reactions
Locky Mavo
I liked it quite a lot. I like how they managed to fit it just enough info on all the, some unexpected, titles for 3DS and Switch and new hardware. I'm keen to play Splatoon 2's hoard mode. ARMS was good too, but I think they dragged that vs match a little too long. Min Min looks pretty cool, but I was hoping to see at least 2 new characters, but least we know there's more coming with those eagle-eyed "leaks", though it was never in doubt. The 2v2 mode looked awesome too. Payday 2 was the biggest surprise imo, and it was good to finally hear hear about the last 3 Smash amiibo, they look great and all those release dates! June-July sounds like it'll be a good time for Switch.
Overall, I think it was a good Direct, I expect at least 1 more before E3, and I think Nintendo's E3 is going to be really good this year. Only 2 more months to go!
FutureFox
I actually liked how they showed Monopoly played with HD rumble acting as dice. In fact I liked the presentation of the smaller games. ARMS 2-on-2 makes thing very interesting.
Bart
Well they showed a few seconds of Garou: Mark of the Wolves during the Neo Geo segment, so that obviously means this was the greatest Direct ever.
I know I already brought this up before repeatedly, but seriously, that made my day. Portable Garou, hell yeah. Would be even better if it had online play and if there was a Joy Con with a real dpad I guess, but whatever, not going to let that diminish my enthusiasm.
Other stuff I liked was the new amiibos, especially the 2X Bayonetta/Cloud surprise, didn't see that coming. And MM Link, gotta have that one too…
Ever Oasis was looking good, so did Sine Mora EX and Battle Chasers.
A release date for Culdcept Revolt was nice, looking forward to that.
They also managed to get me more interested in Arms than I was before, which I assume was their intent, so job well done. (Was already sold on Splatoon 2 thanks to the testfire, but getting to see more of that didn't hurt either.)
Probably some other stuff I'm forgetting right now…
So all in all, I wasn't expecting too much from this Direct due to the way they announced it, but ended up being pleasantly surprised. Well played Nintendo.
Leave a Reply