[Let's Talk] What are you playing? – September 2017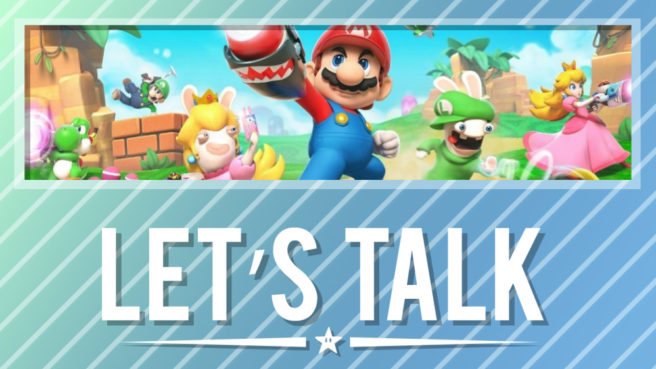 A new month is here! We just entered September yesterday, so that means we want to know what you've been playing.
Have you started up something entirely new for the month? Are you giving Mario + Rabbids Kingdom Battle a shot, or something else?. Whatever the case, let us know in the comments below!
Highlights from last week's topic: Third-party games you'd like to see ported to Switch
Tito
I would love to play on Switch Dark Soul trilogy, Bioshock trilogy and the Mass Effect original Trilogy, the experience to play Final Fantasy XV, Persona 5, Nier Automata, For Honor would be amazing on the go. Also see games with the "DX" treatment like the Bayonneta 1 & 2, Wonderfull 101, Pandora Tower, The Last Story, Madworld, ZombieU, Fatal Frame and Xenoblade X would be awesome.
Shane
Dark Souls Trilogy, Elder Scrolls: Morrowind, GTA 5, RDR 2, MH World, KH3, Street Fighter 5
Bart
Persona 5 is definitely the first thing to come to mind.
I've also had Code Veronica on my mind for some reason ever since they announced Revelations…
I could go for some DoA I guess, though I'm not really a fan of 5…
Falcom games.
Xiarno
I have ONE game I REALLY, REALLYYYYYYYYYYYYYYYYYYYYYYYYYYY want on the Switch, and I'm sure a LOOOOOOOT of people will agree wiht me.
OKAMI, PLEASE, I DONT FREAKING CARE IF IT IS A PORT, A REMAKE, A REMADE OR WHATEVER IT'S MAY BE, PLEASE, OKAMI ON THE SWITCH !!! #bringbackokami !
Knux
YESSS
I'd love to see Persona 5 or any other Persona game on Switch. I know we already have SMT on the way but I honestly prefer the style of the Persona series.
Dragon Ball Fighters Z or BlazeBlue Tag Team Battle is another one I'd love to see. Any good looking 2D fighting game I'd love to see on Switch, and they fit that criteria.
Those are the top on my list, but to be honest, any AAA game on Switch would be good for me.
Project 2501
Oh also if Bethesda is serious about supporting the Switch, it'd be really cool to see a collection of remastered Fallout (3/NV) or Elder Scrolls (III/IV) games.
Also any new Telltale releases as well. I miss playing their games on the Vita, they're a great fit for handheld formats.
This is getting a little out there but I'd also be super hype for a remake/remaster of Shin Megami Tensei: Nocturne from Atlus, or an HD Dragon Quest VIII from Square Enix.
JodoKast
Pac-Man Championship Edition
3D Out Run
ChuChu Rocket!
Chronodin
I would love to see Final Fantasy XII: The Zodiac Age ported to the Switch. With the recent announcement of Final Fantasy XV coming to PC, my need to get a PS4 would be that much less!
Leave a Reply