Lots of upcoming eShop releases – Pinstripe, Storm in a Teacup, much more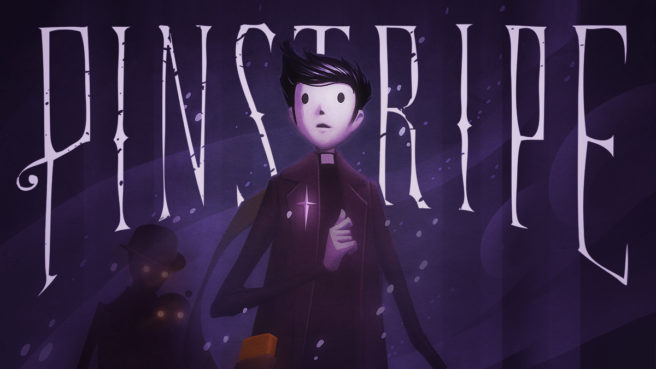 Nintendo's website has updated with a bunch of upcoming games slated for the Switch eShop. Pinstripe, Storm in a Teacup, and more are on the way.
Below is the full lineup with release dates:
Pinstripe – October 25
An ex-minister ventures through the frozen depths of Hell in search of his kidnapped daughter.
Pinstripe is an emotionally charged adventure through Hell created entirely by a one-man team over the course of five years. Play as Teddy, an estranged ex-minister forced to venture through the frozen afterlife in search of his three-year-old daughter Bo, and her perverse kidnapper. Discover the dark secrets of Teddy's past, and confront his sleazy, demonic nemesis, Mr. Pinstripe. Thomas Brush, the creator of award-winning indie games Coma and Skinny, reveals a gorgeous art style, breathtaking score, and chilling story with influences from The Nightmare Before Christmas, Coraline, and Alice in Wonderland.

Features:

-Explore six hauntingly beautiful levels of Hell.

Listen to an immersive and unique soundtrack written by the game's creator.

-Use your slingshot to fight your way through bizarre beasts and interesting puzzles.

-Hang out with your family pet George and sniff out clues.

-Discover the mystery behind Teddy and Bo's death.

-Features a hilarious cast of professional voice actors and celebrity cameo performances!
Storm in a Teacup – October 25
A boy, a dream and an enchanted teacup… it's time for an exciting experience you'll never forget!
Storm's brother, Cloud, has created an amazing dream-like world for you to explore, packed with all kinds of challenges! Guide Storm through each stage solving puzzles, avoiding pitfalls and beating bad guys in this magical platform adventure.

• Simple controls, fiendish puzzles – guide Storm's teacup to the finish across a multitude of levels.

• Master each stage to get the maximum number of stars.

• The perfect 'pick up and play' game for players of all ages!
Pipe Push Paradise – October 20
Pipe Push Paradise is a challenging, plumbing-based puzzle game. You've arrived on a lonely island faced with a hero's calling. Rise to the occasion (push pipes around) and restore this paradise to its former glory.
Features:

• Pipes

• Tile-based gameplay

• 47 elegant puzzles packed with surprising mechanical twists

• Lush and relaxing art and music by Teodoro Zamudio

• Supports the following languages: English, French, Italian, German, Spanish, Japanese, Korean, Portuguese-Brazil, Russian, Simplified Chinese
Drift Legends – October 18
The Ultimate Drift Racing Simulator

The ultimate drift racing experience in the most realistic drifting game around. Drive legendary drift cars on different tracks, beat records, take part in different drift racing events, rise from Beginner to Professional League driver.

Main Features:

– Realistic physics, simulating every aspect of car behavior
– Drive more than 40 powerful and exciting, highly detailed drift cars
– Customize your cars with exclusive paint jobs and rims
– Realistic engine sounds for every car
– Turbocharger, gearbox and tires sounds
– Every car behaves differently: feel the power and weight, find your balance
– Drift on detailed tracks with different layouts
– Career mode allows you to get more drift experience, complete achievements and unlock powerful secret cars
– Win special cars and tuning parts in Daily Events!
– Race photo mode – make pics of your car
– Race replay video, filmed by drone
– Realistic 3D graphics

If you're a car enthusiast, this game is definitely for you!
Moto Racer 4 – October 18
Choose your racing style!
Moto Racer 4 is racing game you can play on asphalt or dirt.

In a world where freestyle and risk-taking dominate, impose your riding style all around the world. Impress your opponents and win races with class!

Master drifting, wheelies, sharp turns and other techniques to earn a place on the podium!

Customize and upgrade your bike! Progress through Moto Racer 4 and take in the stunning environments.

From the United States to the Himalayas by way of the desert, Moto Racer 4 takes you through perilous, breathtaking courses at 100 miles an hour.
Deru: The Art of Cooperation – October 17
Cooperate with a friend or challenge your twin stick skills to tackle the puzzles solo.
Deru is a cooperative puzzle game that mixes eye catching abstract art with mind bending puzzles to a unique gaming experience.

In this couch co-op experience two players team up to overcome the boundaries of shadow and light and succeed through teamwork, timing and tactics.

Block streams for your partner, juggle your mass to make each other huge for traversing big streams. To succeed you have to communicate and plan together, fuse your brains and bring your co-op gaming skills on the next level. Deru is more than your usual puzzle game, you need to have dexterity, precision and use strategic planning to reach the exit of each level.

– Enjoy beautiful abstract art while solving mind-bending puzzles

– Simple game mechanics, easy to pick up

– Great atmospheric music

– Multiple worlds packed with many brain twisting riddles

– Couch Co-op, merge your brains together to overcome the streams and barriers

– Single Player: Challenge your twin stick skills to tackle the puzzles solo
Madorica Real Estate – October 11
Enjoy solving puzzles with floor plans and pencils!

The study material for "Madorica Real Estate" would be the floorplan for the corresponding house of the game stage.

You would dropdown the magic spell or hints on the floorplans. The floor plans are not only for dropping notes, you might need to cut or fold it!

There are twenty stages in total, each of them would have its own various features and traits. Challenge the riddle and enjoy the visual look of each room!

*There would be a digital version of the study material stored in the game software, but we recommend you to follow the instruction in game, download the material and print it before you start. It would be much convenient for dropping notes and share the information with your cooperators.

Enjoy solving puzzles with floor plans and pencils!

When the game stage started, you would be settled in somewhere of the property and locked up in the room by the evil spirits. The player is unable to move, only 2 actions could be done under this situation.

1) Move your viewpoint and study the hints

2) Close your eyes and cast a magic spell

Story

You are taking a role of a new blood of a real estate agency. "Madorica Real Estate" is the only real estate agency providing houses which are not haunted and safe for stay.

President Madorica ordered you to exorcise evil spirits with magic in order to make them sellable. The hints of beating the evil spirits have been hidden in those inhabiting properties, also the mysterious floor plans given by President Madorica.

Find out the hints and solve the riddle with pen & paper for obtaining magic spells! Beat the evil spirits to complete your mission!
Leave a Reply