Mario & Sonic at the Olympic Games Tokyo 2020 modes detailed – story, Dream Events, online, more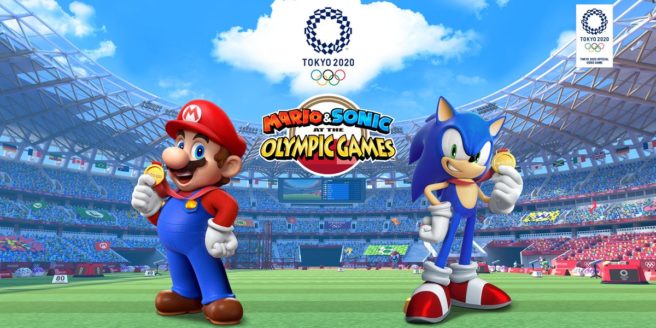 SEGA has been sharing quite a bit about Mario & Sonic at the Olympic Games Tokyo 2020 as of late. We've seen new trailers, footage, the new 2D events, and more.
The official Japanese website for Mario & Sonic at the Olympic Games Tokyo 2020 also opened this week, which provides details about the many modes planned. These include Story Mode, Dream Events, online, and more.
Here's our translation of what's mentioned:
Quick Match, single-player
– Tokyo 2020 Events (21 games)
– Dream Events (3 games)
– Tokyo 1964 Events (10 games)
– Button controls are available for all games
Quick Match, multiplayer
– All games can be played in either TV mode or Tabletop mode with 2 to 4 players
– Some games are cooperative
Story Mode
– Retro game system sucks in Mario, Sonic, and Toad
– Luigi and Tails try to save them
– Experience a new story
Local Wireless
– All games can be played with 2 to 4 players
Online, Ranked Match
– 2 to 8 players
– Can play Tokyo 2020 Events or Dream Events
– Players are rated based on their wins/losses, so players at the same skill level will be matched up
Online, Non-ranked Match
– 2 to 4 players
– Choose a game and play with others
– Or play multiple games one after another with the same players
– The game will be chosen at random, if the players do not reach a consensus
Online Leaderboards
– Check rankings by ratings and competition record
My Data
– Game House: You can play any game you've beaten in story mode here
– Tournament Results: Access obtained medals, internet rankings and records for each game
– Achievements: Access results from challenges
– Trivia: Access trivia learned from Story Mode
– Options: Customize your character, icon, sound settings and language settings when playing online
– Credits: View the staff credits for the game
Dream Events
– Pretend events created with Mario and Sonic's unique gameplay and world in consideration
– Dream Shooting, Dream Racing, Dream Karate confirmed
– Only Dream Shooting has been detailed thus far
Dream Shooting
– 4 player shooter
– "Free-for-all" or "Team Battle"
– Fire acorns at targets to get points
– The stage is based on carnival Fun Houses, so it has a lot of tricks and traps: shoot switches to open/close doors, hidden targets, etc.
– Extra points can be earned by comboing targets
– When the huge Japanese kite appears, you can score extra points
– There is an item called the "multi-shot"; using it on the kite will net you a high score
Mario & Sonic at the Olympic Games Tokyo 2020 launches November 5 in North America and November 8 in Europe.
Leave a Reply