Miitomo – returning Miitomo Drop stage (5/2/17)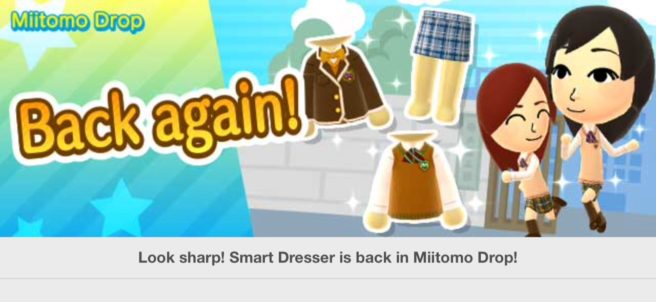 In celebration of Miitomo's first anniversary, Nintendo has brought back the "Look sharp! Smart Dresser" stage as voted in through a Twitter survey. Users can obtain popular items in this coin-exclusive special level.
It includes the following:
– Regal jacket w/ bow tie
– Fine plaid skirt
– Girls' prep school top (set)
– Girls' prep school skirt (set)
– Dashing jacket + vest
– Frilly sailor outfit
– Way-casual pants
– Casual school top
– Casual blazer
– Casual sneakers
– Casual school pants
The returning stage will be available until May 4 at 6 PM PT / 9 PM ET.
Leave a Reply