Miitomo – returning Miitomo Drop stage theme (6/18/17)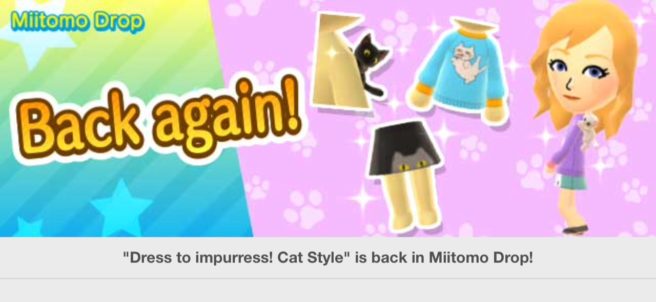 Miitomo has been updated with more content. Users will find returning stages with more items.
"Dress to impurress! Cat style" is the returning theme. The stages provide the following:
– Tiny kitty cap
– Cat-ear headband
– Striped kitty muffler
– Cat-faced stockings
– Cat hood w/ muffler
– Cat-paw dress shirt
– Hoodie w/ wraparound kitty
– Shorts w/ calico-cat print
– Cat companion
– Silly-kitty sweater
– Kitty miniskirt
– Cat-faced pumps
The returning stage will be available until June 20 at 6 PM PT / 9 PM ET.
Leave a Reply