Miitomo – returning Miitomo Drop stage theme (8/20/17)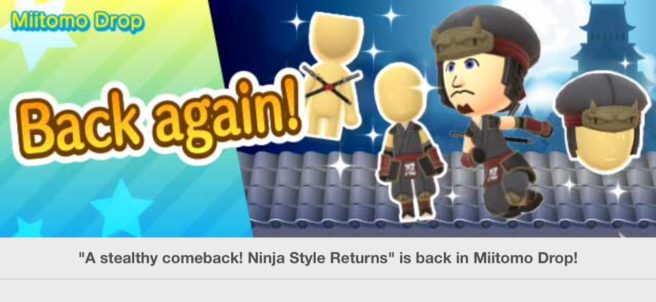 Miitomo has been updated with more content. Users will find returning stages with more items.
"Fun in the sun! Summertime Style" is the returning theme. The stages provide the following:
– Demon ninja hood
– Demon ninja armor
– Ninja bomber jacket
– Deadly blossom hairband
– Deadly blossom ninja suit
– Kunai necklace
– Shuriken
– Ninja dog scarf (set)
– Ninja dog outfit (set)
– Arabesque bandana
– Scrollwork jacket
The returning stage will be available until August 22 at 6 PM PT / 9 PM ET.
Leave a Reply