Nekopara Vol. 2 set to include extra episode Nekopara Extra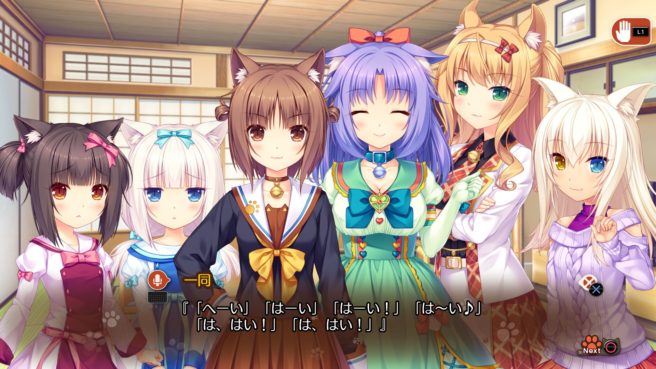 As a last minute surprise for fans prior to the release of Nekopara Vol. 2 for Switch on February 14th, developer Neko Works has confirmed that Nekopara Extra will be unlocked for players after completion of the main game.
According to the translation of the game description from Gematsu, Nekopara Extra is an extra episode in the Nekopara series that previously saw a standalone release after a crowdfunding campaign goal was met. This time around, the game will be packaged in and playable after players complete Nekopara Vol. 2.
The full description of Nekopara Extra and some initial screens can be viewed below.
Story

About half a year before the opening of the patisserie, La Soleil where the catgirls work with Kashou.

Back when Chocola and Vanilla were still kittens when they first arrived at the Minaduki household and before they opened up to the other catgirls.

It's then that they gradually began to call Kashou "master", experienced their first Christmas, and shared a promise with Kashou.

About

Nekopara Extra is an extra episode in the Nekopara visual novel series that was part of a stretch goal from the Nekopara OVA crowdfunding campaign! The lovable catgirls, Chocola and Vanilla, are back and this time the story focuses on their first arrival at the Minaduki household before the events of Nekopara Vol. 1.

Key Features

Featuring the gorgeous artwork of Sayori, popular illustrator and creator of the Nekopara series.
Characters spring to life using the E-mote animation system.
Play in two different languages! Choose a main language and choose a subtitle language as well.
Prequel to the popular Nekopara series.
Leave a Reply