Nelke and the Legendary Alchemists: Atelier of a New Land details, screenshots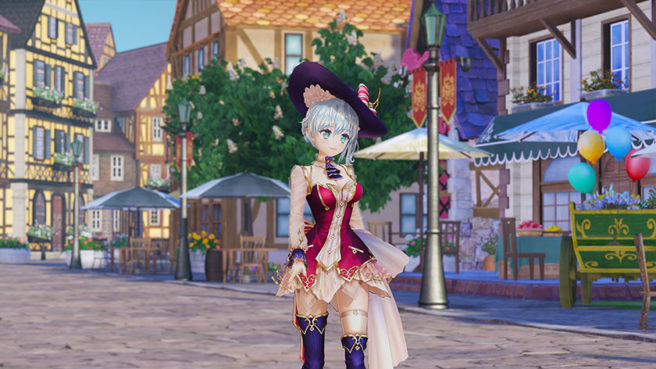 This information comes from the official website and Gematsu…
■ A story in which a young lady and various alchemists fulfill their dreams. This will become our city.
The feeling of a daily life that interweaves various characters, and the uplifting feeling that your world is expanding through town development. Together with legendary alchemists, the young noblewoman Nelke will start to build her town.
■ The protagonist is a young noblewoman! Build a town in a new land!
Nelke is a curious young noblewoman who, following a certain event, is appointed the director of the "Remote Village of Vestbalt" and is entrusted with its development. Nelke will work hard to carry out her mission. And some resourceful cooperators will come along to help…
—Nelke, Vestbalt's newly appointed director. From here her dream will start to move.
—Vestbalt is an empty village surrounded by tranquility and abundant nature…
—As you develop your village, it will become a town, then a city lined up with various buildings.
—By placing your preferred buildings in town creation, you can develop the village to your liking.
—By developing the town with the money you earn, you will earn even more money. Thus your village will gradually get bigger.
—How you develop your town is up to you. Show off your skills as head of the village.
■ A mass gathering of alchemists who support Nelke with all their strength!
Nelke's reassuring cooperators are the legendary alchemists that appeared in previous Atelier games. Many characters, including Marie, Meruru, and Sophie, will support Nelke in building the town. Deepening Nelk's friendships with these characters may even result in pleasant developments.
■ Special Editions
20th Anniversary Box
(Exclusive to Gust Shop, Gamecity Online Shopping, Sofmap, and Amazon Japan.)
Nelke and the Legendary Alchemists: Atelier of a New Land
Price:
PlayStation 4 version: 26,100 yen
PS Vita version: 25,100 yen
Switch version: 26,100 yen
Includes:
A copy of the game
A download code for a Nelke-exclusive costume before it is released
Nelke and the Legendary Alchemists visual book
Nelke and the Legendary Alchemists soundtrack archives (one disc)
Nelke and the Legendary Alchemists custom-drawn B2 cloth poster
Nelke and the Legendary Alchemists mini metalic clear poster
Set of 50 tin badges featuring characters from previous Atelier games
Special-make acrylic stand figure (Nelke)
Nelke and the Legendary Alchemists special-make custom illustrated extra large cloth poster
Premium Box
Price:
PlayStation 4 version: 10,800 yen
PS Vita version: 9,800 yen
Switch version: 10,800 yen
Includes:
A copy of the game
A download code for a Nelke-exclusive costume before it is released
Nelke and the Legendary Alchemists visual book
Nelke and the Legendary Alchemists soundtrack archives (one disc)
Nelke and the Legendary Alchemists custom-drawn B2 cloth poster
Nelke and the Legendary Alchemists mini metalic clear poster
Standard Edition
Price:
PlayStation 4 version: 8,800 yen
PS Vita version: 6,800 yen
Switch version: 7,800 yen
Includes:
A copy of the game
Leave a Reply