New Nintendo patent: controller with free-form display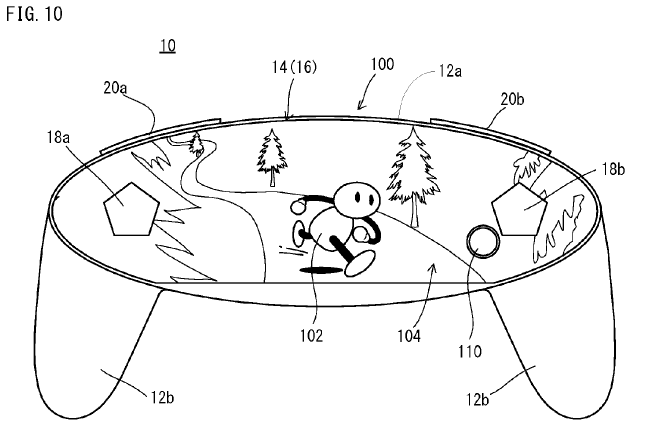 A few months ago, Nintendo filed a trademark for what looks like a controller with a free-form display. It was just published for all to see today. Of course, we do have the GamePad which offers something slightly similar, but this would be something completely different.
Here's an abstract:
"A non-limiting example information processing apparatus comprises a housing, and a first portion of the housing is formed in an elliptical form when viewing from the front. A display panel and a touch panel constitute one main surface of the first portion. Holes are formed in left and right end portions of the display panel and the touch panel, and two operation sticks are provided through the two holes. When viewing the first portion from the front, an area except key tops of the operation sticks becomes a display area."
The patent makes note of a few things, including:
– Using a display panel allowing stereoscopic view
– Can make an aspect ratio thereof comparable to a ratio (16:9) of a wide screen
– Touch panel on the front surface of the display panel
– A touch panel of an electrostatic capacitance system or a resistance film system can be used
– Card slot
Finally, some images from the patent:
The patent seems to fit in with rumors about Sharp working with Nintendo on a free-form display. In the filing, it's essentially an elliptical touch screen covering the device's entire top surface area.
As far as the images go, don't take them at face value. They're really there just as a means to explain what the patent is about, so the device pictured isn't a product that will be launched as a final product.
Leave a Reply