Next Super Bomberman R update launches in November, first footage of new Grand Prix mode, more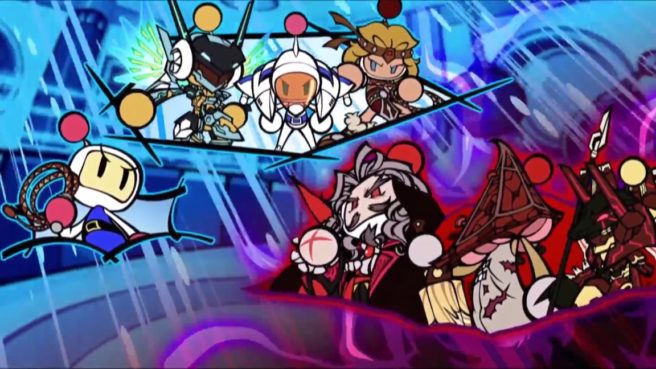 Last week, Konami announced a new update for Super Bomberman R. The company is adding Grand Prix mode as well as the Jehuty, Anubis, and Reiko Hinomoto Bombers. More information has been shared about the update in recent days.
First, here's an official overview of Grand Prix mode from Konami:
The Bomberman team is excited to bring a new game mode to Super Bomberman R! The Grand Prix mode allows teams of up to three players to compete against each other head to head on. These strategic battles will have new rule-sets, unique new stages, new characters and special skills.

The two teams will battle it out to see who can collect the most crystals strewn around the stage. Make your opponents drop their crystals and then steal them! You have to work together, teamwork is a must!
Konami also held a couple of stage events for Super Bomberman R at the Tokyo Game Show. Presenters further added that if you're defeated, the crystal scatters, so you or opponent need to take it back. Whoever has most crystals on each team shows the crown icon over their head, so you will know who should be attacked.
We have the first footage of Grand Prix below, as was shown at TGS:
Here's an animation for Grand Prix as well:
The next Super Bomberman R update launches in November, as Konami confirmed at TGS. Also, if you thought that this would be the last update for Super Bomberman R, think again. Konami indicated that more patches will be added to the game. It sounds like we can at least look forward to the likes of more rules for Grand Prix and characters.
Leave a Reply