Nintendo Direct live streams, blog (3/8/18)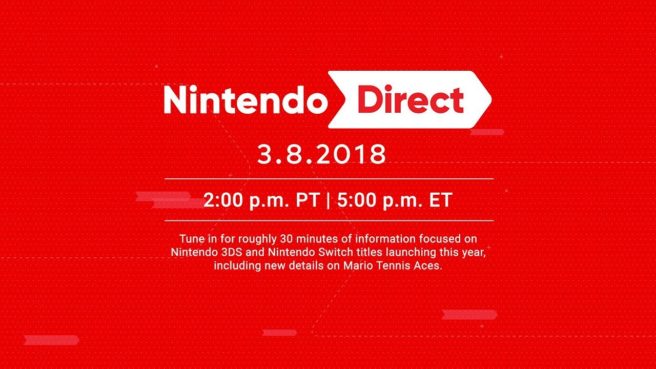 Today's Nintendo Direct will be kicking off in an hour from now. The presentation is expected to begin at 2 PM PT / 5 PM ET / 10 PM in the UK / 11 PM in Europe.
The new Nintendo Direct will cover Mario Tennis Aces as well as other games for both Switch and 3DS. The presentation should last about 30 minutes.
We have all three live streams (North America, Europe, Japan) below. If all goes well, Dennis will also be handling our live blog below. Expect new posts on the site as the big announcements are made. Enjoy the Nintendo Direct!
Live streams
Live blog
Hey, everyone! Dennis here. We're super excited to get a brand new Nintendo Direct underway and give you guys all the information as it happens right here on Nintendo Everything. Koizumi-san is sure to look dapper as always and will guide us through all the upcoming titles both announced and unannounced to look out for. *Insert Switch snap sound here*
The Direct starts off with some news on upcoming Nintendo 3DS titles:
Wario Ware Gold
– Utilizes all functions of the 3DS to make super fun and immersive minigames Wario Ware has always been known for
– Over 300 minigames
Dillon Dead Heat Breakers
– Out 5/24
Mario & Luigi Bowser's Inside Story + Bowser's Jr's Journey
– 2019 release
Detective Pikachu
– Prepurchase is available now
– March 23rd alongside massive amiibo
LUIGI'S MANSION REMAKE ON 3DS!!!
– A day one buy
– You should 100% get it
– Releasing in 2018
Switch games now on full display
Kirby Star Allies
OKAMI HD
– A couple of months late but better late than never. I'll be buying a second copy in addition to my PS4 copy.
– One of the greatest games ever made
– Joycon utilization similar to the Wii version
– Available this summer
Sushi Striker The Way of Sushido
– Available for Nintendo Switch and 3DS on June 8th, 2018
Project Octopath Traveler
– New characters Alfyn, Terra,
– Jobs in battle, multiple available per character
– Limited Edition also available in addition to when the game launches on July 13th
Travis Strikes Again
– Available this year
– Single joycon support for multiplayer
Dark Souls Remastered
– amiibo?!
– Network test before launch
– Available May 25th
Mario Tennis Aces
– WAHOOO
– 4 player multiplayer local and wireless
– Tons of mechanics both traditional and brand new
– Zone speed to allow for slow motion recovery
– Energy gauge builds up, allowing for zone mechanics
– Trick shots help build the gauge further, hard to master but high reward
– Special shots similar to Mario Strikers
– Coming June 22nd, 2018
– Pre-launch Online Tournament to try the game, details at a later date
CAPTAIN TOAD MAKING A NEW HOME ON SWITCH
– JULY 13TH
– ALSO AVAILABLE ON 3DS
UNDERTALE
– INDIE CLASSIC
CRASH BANDICOOT
– COMING TO SWITCH
– WHAT IS HAPPENING
LITTLE NIGHTMARES
– ONE OF THE BEST GAMES OF 2017
– PACMAN EXCLUSIVE MASK WITH AMIIBO
SOUTHPARK: FRACTURED BUT WHOLE ALSO?!?!
– I'M LOSING MY MIND IF YOU CAN'T TELL
HYRULE WARRIORS DEFINITIVE EDITION
– MAY 18TH
ARMS
– US AND CANADA ONLINE OPEN
SPLATOON 2
– EPIC
– Octo Expansion coming this Summer
– Available for purchase now, will immediately receive gear today if purchased
SMASH BROS COMING TO SWITCH
– I AM BROKEN (NOT LIKE MATT HARDY)
– COMING IN 2018
– VERY CLEVER WAY TO INTRODUCE IT
– I THOUGHT IT WAS A SPLATOON 1 REMAKE AT FIRST WHICH WOULDN'T HAVE MADE SENSE BECAUSE WHO WOULD WANT THAT WHEN THERE'S SPLATOON 2 BUT IT WAS THE SAME OPENING
– YOU GOT ME, NINTENDO
Announcements galore on an E3 level playing field. I can't even begin to imagine what the rest of the year has in store for the Nintendo Switch, both at big events and of course future Directs. Thanks to all who stuck around with us during March's Direct, and of course you can always find more in-depth information regarding each of these games with their own posts here on NintendoEverything.com
Have a wonderful day!
Leave a Reply